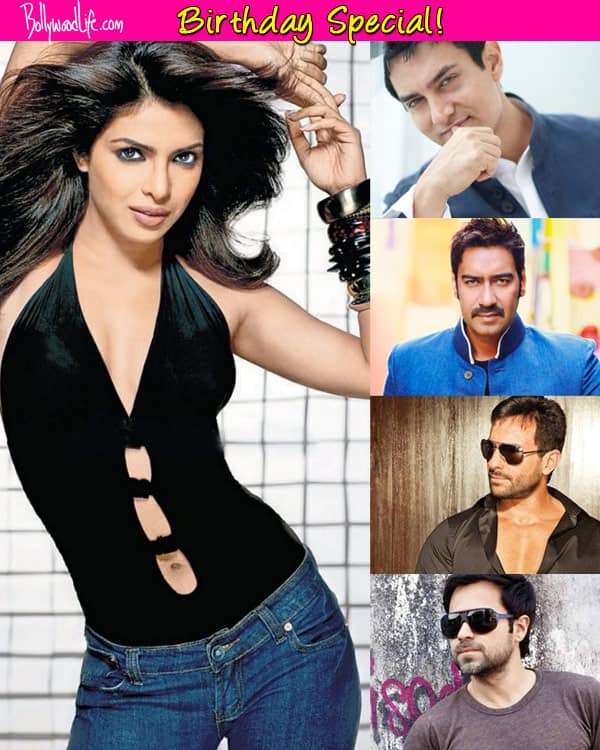 skip advertisement
PC celebrates her birthday today. Among all the actors that she has not worked with, we wonder as to with whom she would look the best
Priyanka Chopra turns 32 today and on her birthday we look back at her filmy career spanning over a decade. Her roles kept varying in various dimensions as she kept experimenting with not just her looks, but also her roles. She even went ahead and made a name for herself in Hollywood by becoming one of the most sought after pop singers.
Close by Bollywood, she has been paired with almost all leading heroes of our generation. From Shah Rukh Khan to Salman Khan to Akshay Kumar to Ranbir Kapoor to Ranveer Singh, she has romanced everyone onscreen. But there are a few actors who have spent as much time in the industry but never got a chance to be paired opposite PC. So, on her birthday, we decided to ask all you BollywoodLifers as to with whom would she look best with among this lot. They are:
Aamir Khan: Priyanka has always admired Aamir's work, especially his TV show Satyamev Jayate. The same admiration has been reciprocated by Aamir many a times, but the two never managed to share screen space together. We wonder why…
Ajay Devgn: Priyanka shared screen space with Ajay in the 2005 film Blackmail, which failed to create an impression at the box-office. However, in that film she was paired opposite Suniel Shetty and not opposite Ajay. We wonder why the two have never ever shared a thought about being cast opposite each other. It would be great. Hai na?
Emraan Hashmi: Priyanka has never shied away from kissing onscreen (Ranbir and Shahid Kapoor may give testimony). Emraan, as we all know has earned the tag of the serial kisser. However, people never thought Emraan to be doing mainstream films, but post The Dirty Picture that has definitely changed. We wonder as to how sizzling Emraan and PC would look like onscreen together. Anyone thinking about a lip-lock?
Farhan Akhtar: Priyanka has worked in two of Farhan's directed movies, Don and Don 2, but since the time Farhan turned actor the two have hardly shared a frame. We wonder if all's well between the two. However, the two have always shared the same respect for each others work. Wouldn't it be great to see B-Town's Milkha Singh and Mary Kom in the same film?
Saif Ali Khan: Priyanka has never come close to sharing screen space with Saif. We wonder whether that was because of PC-Kareena Kapoor fall out. But now that all's sorted between the two ladies, we surely hope to see Saifu romance the Exotic babe What say peeps?
So go ahead BollywoodLifers, vote for actor who you think will look great with the Dostana hottie! BollywoodLife wishes her a very happy birthday.