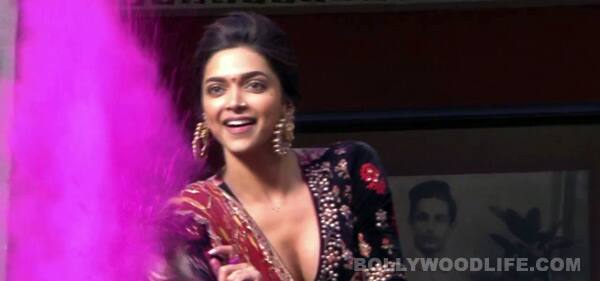 As the leggy beauty takes the colour off Ranveer Singh's lips, she winks at the dude . Why is then Dips complaining that she has been hit by the blood?
Deepika Padukone and Ranveer Singh make for a passionate couple in Sanjay Leela Bhansali's forthcoming costume drama Ram-Leela. In the Lahu muh lag gaya song from the movie we see the couple getting romantic and naughty. But when we converted the seductive lyrics of this song the meaning got lost in translation. Take a look..
Heji re
Ude ude mann ude
Par lage tere sang jude
Mann ude pag bade
Teri ore bade…
Jag chod bade…
Hey you,
Fly fly the mind fly
But seems with you it sticks
Mind flies leg joints
In your way grow
Lahu muh lag gaya
Lahu muh lag gaya
Blood mouth hits
Blood mouth hits
Soya tha nas nas mein
Ab ye jag gaya
Aye….
Sleeping it was in vein vein
Now it is woken
Labon ke choone se
Khawaabon ke kone se
Bachke sabse lab se
Lab ye rag se rag gaya
Lips on touching
Dreams of the corners from
Saved from everyone's lips
Lips these vein of vein hits