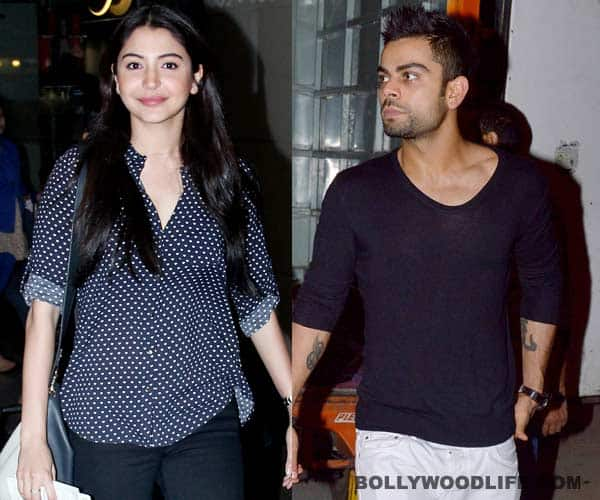 Social media is abuzz with deadly jokes on the couple as the Indian batsmen is struggling to find form
It is a no brainer that bollywood babe Anushka Sharma is dating Indian cricketer Virat Kohli. But the couple has always been in denial mode about their relationship. After Virat paid visits to sets of Anushka Sharma's Dil Dhadakne Do, it was leggy lass's turn to reciprocate his affection. 
Recently Anushka Sharma  was spotted in London cheering for her boyfriend Virat Kohli as India and England locked horns in a test match at Lords. But due to poor form of Virat, the couple has become butt of all jokes over twitter. Jab Tak Hai Jaan diva's alleged infamous lip job were connected to Virat's failure in these mean yet hilarious jokes.  We bring you a few funny ones on Virat and Anushka :
Virat Kohli has scored a zero because of Anushka. No!! He has scored a "Duck" as a tribute to Anushka Sharma's new lip job.
A golden duck is all Virat Kohli could gift Anushka Sharma at the Lord's.
Anushka Sharma: "Want to hear a joke?" Virat Kohli: "Yes." Anushka Sharma: "Runs." Virat Kohli: "I don't get it." Anushka Sharma: "Exactly."
Virat Kohli has 2 ducks now. One in this match and Anushka Sharma.
Virat Kohli has right to come back to pavilion as soon as possible as Anushka Sharma has traveled so long for his company.
Virat Kohli is so deeply madly in love with Anushka Sharma that he wants to remember her in his batting scores too.
"Virat Kohli goes for Anushka Sharma", the sentence has a whole new meaning. #Duck #IndvsEng
Why did Anushka Sharma came to England with Virat Kohli, when everybody knows that Indian cricketers can't perform overseas.
A women is behind every men's Success but unfortunately that not going to happen in Virat kohli and Anuska sharma's life.