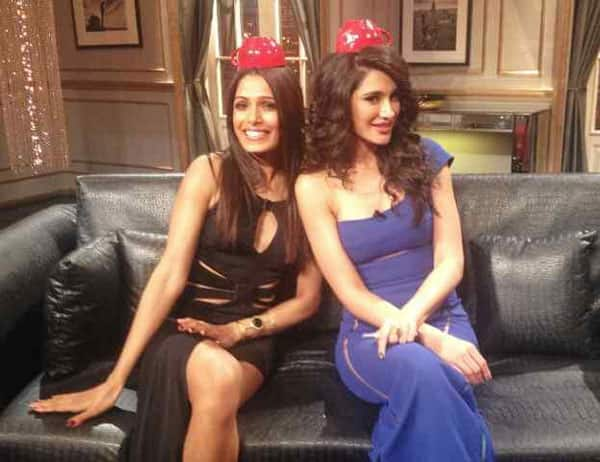 Freida and Nargis will be together on the celebrity chat show for the very first time
Freida Pinto and Nargis Fakhri will be together on Karan Johar's hit chat show Koffee with Karan 4. You must be wondering about the common link between these two since they will be appearing together on the show. Believe you us, we are also trying to figure out a connection between the two!
This is surely an unusual pairing, but will it make this season's steamy hot cuppa something to remember about? We don't know yet. But if Karan has got these two beauties together, it must be for a reason, right? So did Karan ask them about their respective boyfriends? While Freida has always been vocal about Dev Patel, however, Nargis has never admitted that she is seeing Uday Chopra.
The Madras Café actor and the Slumdog Millionaire babe recently shot their episode. Karan tweeted the picture above. And it looks like he couldn't hold on to his excitement and added, "Just shot the most hysterical Koffee episode with 2 very naughty girls…Freida Pinto and Nargis Fakhri!!!"
Both the ladies were quick to reply Karan. While Nargis replied to Karan's tweet with "hahaha my face n stomach still hurts! Love u Karan!". Freida too joined in and replied "And thank you @NargisFakhri ..you elegant goofball for being the best partner in crime. #KoffeewithKaran"
Going by their tweets, it seems that the trio had a blast, but will we have a blast as well? Well, we'll have to wait to watch the episode.