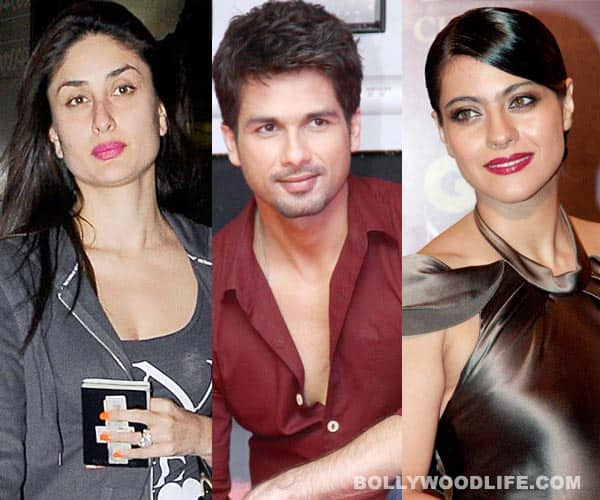 Check out why some of the most popular celebs are choosing to give this year's awards a miss!
Everyone remembers and swears how entertaining Shahid Kapoor and Ranbir Kapoor were as hosts in one of the award shows last year. But this year, Shahid is nowhere to be seen. Similar is the case with Kareena Kapoor. Last year, the actor was seen gyrating to her popular item numbers. But this year, even as Halkat jawani and her song from Agent Vinod were hot chartbusters, Mrs Kapoor Khan is nowhere to be seen, even while hubby Saif Ali Khan was hosting the Filmfare Awards! Also Kajol, who is a perennial sight at all the award shows since her debut, is missing!
Now it's not as if these three were at Aamir Khan's house partying, for he is another actor who never attends the usual award shows! Well, for Shahid Kapoor, we can easily guess why he is conspicuous by his absence. It's 'coz the dude doesn't have any song to dance to this year! With only Teri Meri Kahaani which was more than a damp squib, which other song could the poor actor dance to? Dabangg! And with Kareena, the poor babe was apparently expecting the world from Heroine! And since that fell flat, with other actors in far stronger roles in superior films being nominated, Kareena guessed it right that she doesn't stand a snowball's chance in hell. (Thank Mr Bhandarkar for it!) As for Kajol, it's not as if she wanted to avoid a red-carpet disaster! It was probably the whole Son of Sardaar–Jab Tak Hai Jaan controversy, and she didn't want to be seen sulking as the major honours went to the JTHJ team! So Kajol instead chose to get busy with her husband Ajay Devgn in Jaipur where she attended a puja.
Now we just hope that these actors tighten their belts and choose roles more wisely, so their fans could actually get to see them in another setting, and they wouldn't have to give silly reasons and sulk at homes while watching the awards on the telly like aam junta!