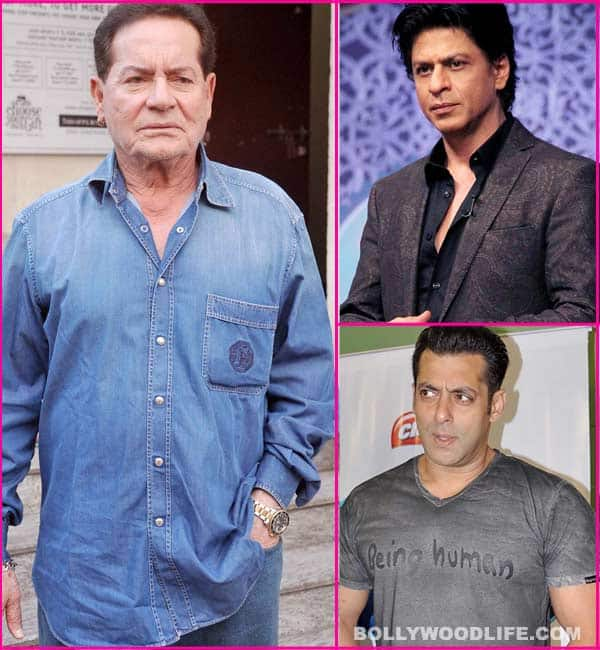 The Dabangg actor's father explains that it's not possible for there to be love between the two Khans…
Shahrukh Khan and Salman Khan rivalry is no hidden secret, however Sallu's daddy recently told the media the real reason why this warring duo can never kiss and make up. That definitely is some bad news for all those who celebrated the famous Khan hug at Baba Siddique's Iftaar bash. Salim Khan at a recent event told the press, "They are two individuals, Grown up people. I think there cannot be love between rivals. There can be courtesy. To have love between Salman and Shahrukh is not possible. One should not expect that if Shahrukh's film is a success then Salman will dance and celebrate. Or if Salman's film is a hit so Shahrukh will throw a party. It's not possible."
Sr Khan's this statement definitely comes as a surprise considering how at an award show many many years back SRK had thanked his then good friend, now turned foe Sallu and the large hearted Dabangg had even posed with King Khan's trophy. However things changed between the two Khans after an angry Sallu who had differences with his then girlfriend Aishwarya Rai had created ruckus on the sets followed by the fallout at Katrina Kaif 2008 birthday bash.
Well, so those of you who thought that Salman and Shahrukh would one day share screen space – all this because of one hug, which considering the occasion is customary – will have to let go of that thought. All we'll see are some more courteous hugs, if they cross each other's paths and make the effort to be polite, that is. Sigh!
ALSO READ: Will Salim Khan and Javed Akhtar bury their hatchet?