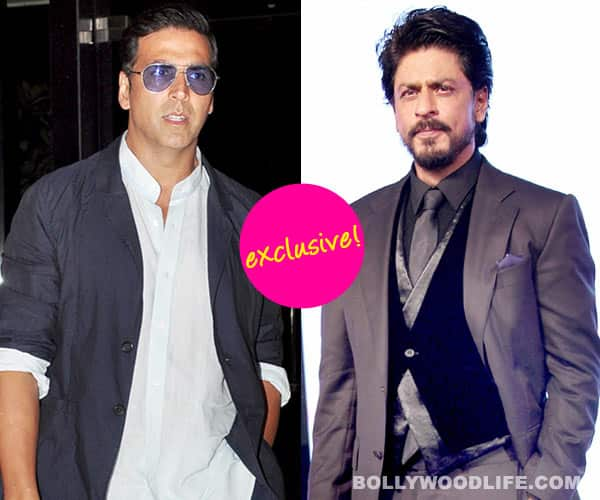 After their recent Iftar party clash made into a brouhaha by the media, the one-upmanship game between Khan and Kumar continues, with the Khiladi's 'last minute' plan to fly to Dubai to promote his new gangster flick… something the Baadshah did last week for Chennai Express!
It all started with Shahrukh Khan announcing his Iftar party plan long before Ekta Kapoor did hers. But it looks like the TV Czarina is not ready to give up on the competition with SRK just yet. Soon after the Chennai Express star arrived back in town from a trip to Dubai to promote the Rohit Shetty romcom co-starring Deepika Padukone, we hear Akshay Kumar is following Khan's strategy to promote his own new gangster flick. The Khiladi is all set to fly to Dubai on August 11.
Our khabroo, who's keeping an eye on the Khan-Kumar game insists that Akki wasn't supposed to fly to the Gulf nation. The trip is apparently a last minute decision taken by the makers of Once Upon A Time In Mumbai Dobaara. "Ekta Kapoor wants to leave no stone unturned to make sure her movie is marketed and publicised well not only in India, but overseas too," we are told." It looks like she feels her movie hasn't been able to generate the level of buzz the King Khan romcom has managed. Considering that, she might have insisted that her movie's lead actor fly to Dubai and promote the film."
Now do you remember the Akshay Kumar-Ekta Kapoor fallout during this year's Indian Premier League matches for not getting enough coverage on TV for Once Upon A Time In Mumbai Dobaara promotion. Now this got Akki quite upset, we all know, and he reportedly asked the makers of the latest film to revise the entire marketing plan to make it more dumdaar. We hope Akshay brings back good memories – for himself and his movie – from his Dubai trip!