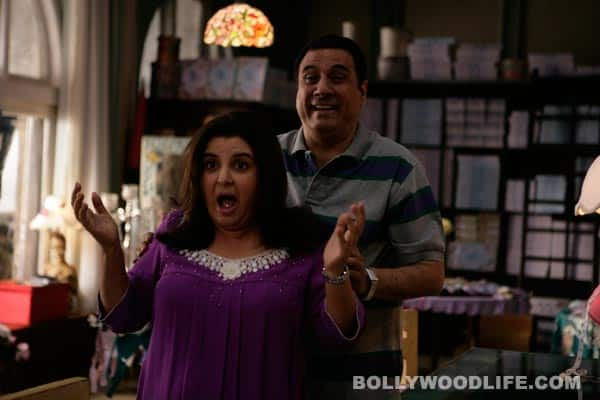 No, it wasn't 'coz he got a chance to play loverboy at 52!
Of all the love stories that have been fabricated in B-town's film factories in recent times, Bela Sehgal's Shirin Farhad Ki Toh Nikal Padi – a romantic tale about 40-plus, ordinary-looking Parsis – is undeniably one of the funniest, finest and fanciest romantic comedies we have seen in a long time. Yes, sometimes the promos and songs of a movie, like the cover of a book, are enough to help us make a judgment!
So like us, you too won't be able to stop giggling with joy as Boman Irani and Farah Khan relive timeless lovey-dovey moments in Bollywood's best contemporary romances. And when they superbly enact the trials and triumphs of too-old-to-be-coy lovers, there's one person who needs to be thanked. No, we mean other than Sanjay Leela Bhansali's sister Bela, who made the unusual love story a reality.
While 52-year-old Boman was excited and challenged to play a lover at his age, it was his lovely wife who got him to sign on the dotted line of the film's contract papers. SFKTNP's lead actor says, "I went home and told Zenobia (his wife) that there was a film opposite Farah, and she said: 'What a fantastic idea! Boman, if this is the casting, you must do this film just because of it'."
If only all B-world wives were so encouraging, the film industry would be saner and calmer place. Right, na? No, actually! Filmi life without gossip is like eating dal without tadka!