Priyanka Chopra Instagram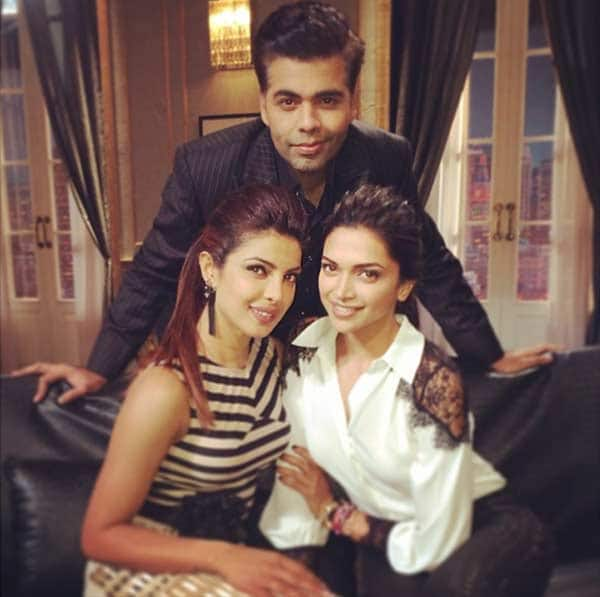 skip advertisement
Priyanka-Deepika-Karan-Johar
Deepika and Priyanka will appear on the fifth episode of Koffee With Karan season 4
A smart chap once said that heroines cannot be friends, but looks like that smart peep had not met Deepika Padukone and Priyanka Chopra before making that statement. Yes, it may be hard to digest, but believe you us, Deepika and Priyanka who are Bollywood's two competing heroines are real good friends.
And their friendship doesn't just extent to blowing kisses in the air and exchanging warm hugs at events, but also being there for each other. Recently we saw how Priyanka did a special item number in Deepika's film Ram-Leela for their friendship goes beyond silver screen. The Exotic babe even made sure she didn't miss Ms Padukone's Race 2 screening. That's not all. During an award show, DP and PC were seen chatting animatedly and the candid shots didn't just get raised eyebrows in the media but also got onlookers wide eyed.
And now these two dusky beauties will make a joint appearance on Karan Johar's popular chat show – Koffee with Karan 4. And as we know, when Karan brings two guests together, he has a strong reason behind it. Last season KJo got Priyanka and her ex-beau Shahid Kapoor on the couch.  And how can we forget that episode when Deepika along with her ex Ranbir Kapoor's previous girlfriend Sonam Kapoor made an apperance together where they had so much to bitch about Ranbir. Both these episodes had their ouch moments, hai na? And this time around, Karan has managed one heck of a casting coup. So what is the reason behind bringing Deepika and Priyanka together on that couch, you ask? One reason possibly could be the friendship between Dippy and PeeCee. As we mentioned earlier, it's very unusual to see two competing share a great bond. Also not to forget that much before the world knew about Ranbir-Katrina Kaif relationship, it was Priyanka who had spotted the lovebirds bringing in the New Year together in New York. Moreover DP and PC are Karan's best pal Shahrukh Khan's heroines. We can only wonder what the hot topic of discussion would be about…
Only Karan can answer why he picked these two dazzling stars, will we see more Ranbir banter or will it be the trio discussing their bestie SRK? We just cannot wait to watch this one. What say BollywoodLifers?