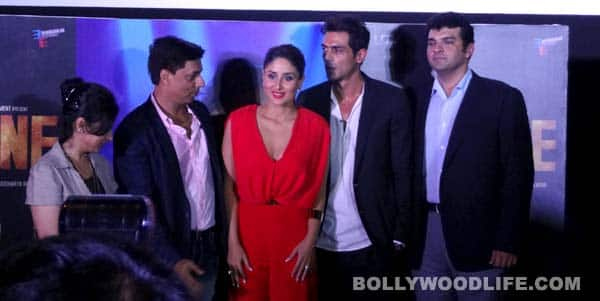 The Halkat jawaani babe was irked when she was compared to Vidya Balan
After a long time Kareena Kapoor is in a film that lets her display her acting chops to the fullest, and at the trailer launch she appeared grateful to her Heroine director Madhur Bhandarkar. Kareena's latest outing seems to be an answer to all those who have been chiding her for playing eye candy in her recent films. For Bhandarkar's 'realistic' portrayal of a heroine's life she has shed all her inhibitions, and the trailer is proof enough that she is in the running for the National Award this year.
The three minute dekho of Heroine was screened at an over-packed hall in suburban Mumbai. The highlight of the Q&A session was the constant comparison of Kareena's shenanigans with those of Vidya Balan's in The Dirty Picture. At one point Bebo really went red in the face and said, "The Dirty Picture was set in the 70s and was the biopic of an item girl. Heroine is the contemporary story of a superstar. I don't think it is fair to compare the two." To add to the Halkat jawaani babe's miseries, both Heroine had TDP are UTV productions.
Siddharth Roy Kapoor aka Vidya's knight in shining armour was also present at the event, and he wasn't spared either. He was asked to choose which was better, TDP or Heroine? He passed the question on to the director. Arjun Rampal quipped that Mr Kapoor should not sit on the fence, but should give an honest answer, but of course that didn't happen. Bhandarkar repeated Kareena's reply: different era… blah blah.
It didn't stop there; a nasty journo asked the soon-to-be begum if she was trying to fill Vidya's shoes by doing such a bold role. Bebo snapped back, "I am not trying to fit into anybody's shoes and nobody else can fit into my size." The emphasis was on the last word: size. Dear Bollywoodlifer, you do the math… wink wink!!!
ALSO READ: Did Saif Ali Khan phone Arjun Rampal after watching 'Heroine' trailer?