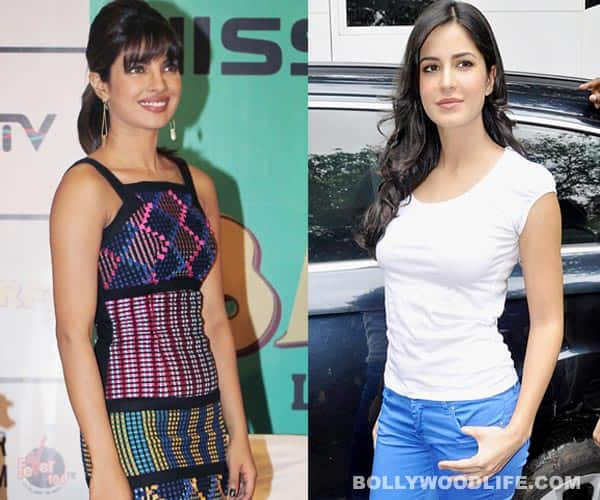 Of course, we don't expect these two ladies to 'meet-up' specially for a cup of coffee. But what happens when they are at the same venue?
The B-town is a phunny place to be in. And sometimes, the actors of this town behave in a rather amusing manner. Take the case of Katrina Kaif, who dropped right next door to Priyanka Chopra's sets in Film City. Piggy Chops, we are told, was shooting for an item number for Sanjay Gupta's next movie Shootout At Wadala.
Kat had wandered in there just to have a brief – umm, two-hour chat – with choreographer Ahmed Khan and director Siddharth Anand. But birdies reveal that the Chikni Chameli slipped out of the venue once the meeting got over. Yeah, and she did that without meeting PeeCee. Gasp!
Well, we weren't expecting a giggly-girlie chat – like the ones Priyanka shares with Deepika Padukone. But isn't a fake, air-kissing kinda 'hi' a customary when two leading ladies are at the same venue? We were shocked, and so was Priyanka. Tch, tch.
And it makes us wonder: why did Kat behave so? Was she in a hurry? Or was she plain miffed that Piggy Chops had kittied an item number that could have been hers? We have no clue.
But dear PC, let it go babe. And we say this because the kind of remuneration – a whopping Rs 2.8 crores for an itsy-bitsy item song – will make anyone turn green with envy, no?
Even so, we let you have the last word, readers: Do you think it was 'okay' for Katrina Kaif to leave the sets without meeting Priyanka Chopra?