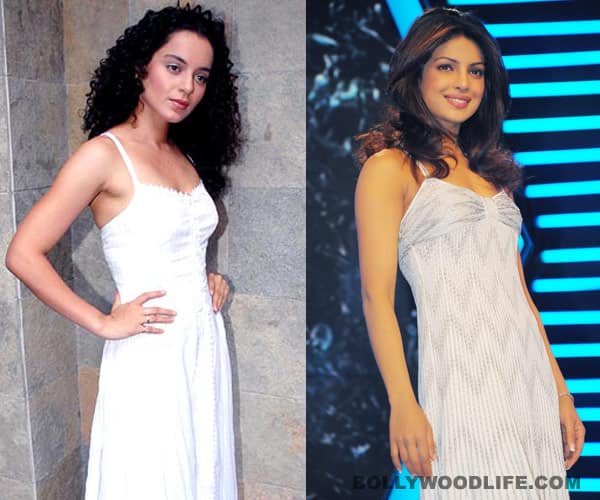 While the gossipmongers are speculating madly that the warring babes in Rakesh Roshan's upcoming film Krrish 3 chose to copy each other, we can tell you why Kangs and PeeCee dressed in identical outfits
We know that Priyanka Chopra and Kangna Ranaut are not exactly the best of friends. The two have been not taking digs at each other, but the cold war between them dates back to Fashion. So it was only obvious that when the two warring babes were seen wearing the same dress on the sets of Krrish 3, the interesting coincidence set some tongues wagging.
Recently, the leading ladies of Rakesh Roshan's upcoming superhero flick Krrish 3 – Kangs and PeeCee – were shooting at a suburban Mumbai studio. During the day's shoot the two actors were seen wearing similar pristine white peasant dresses with a baby pink hem. Spotting the unmistakable similarity of their outfits, a tabloid speculated whether PeeCee and Kangna were copying each other.
Now this question has irked the sensible journo in us – and yes, that persona does indeed exist. We think the so-called news-makers have forgotten that Kangna is playing the super-villain in the film. We are told that the 25- year-old actor is portraying a wicked mutant who can take any form she wants to. So wethinks she embodies Priyanka's character whenever she likes. Designer Manish Malhotra says that he has done Priyanka's costumes and some of Kangna's where she had to dress similarly. Then why is there so much hoopla over a frock?
Now that we have given a likely explanation for the two girls wearing the same outfit, we believe that all the speculation about dress-copying will be put to rest. PeeCee and Kangs will definitely agree with us on this, quite happily!