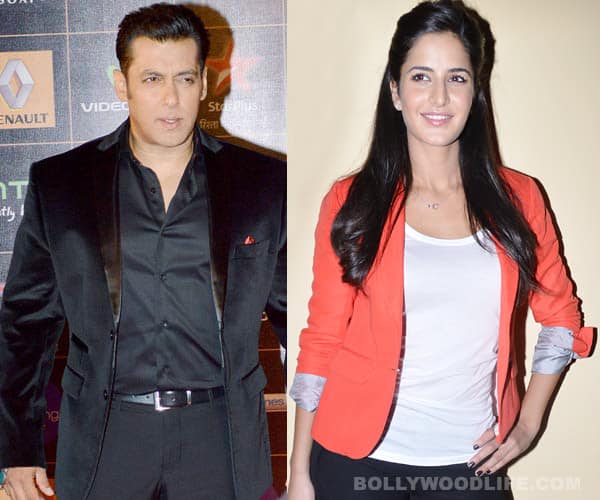 Sallu miyaan is known for being wickedly funny, but his comic streak has suddenly turned outrageous. So much so that his comments don't even tickle our funny bone…
At the trailer launch of his long-awaited film Jai Ho, Salman Khan was quizzed about Kareena Kapoor Khan calling Katrina Kaif her 'sister-in-law' on national television. Instead of dodging the question or being mean (read: rude) to the reporter asking it, the actor decided to answer that one directly. While anyone would have expected a hilarious reply, Salman said with seriousness, "If she (Katrina Kaif) is her (Kareena Kapoor) sister-in-law, than she is my sister-in-law also!" Really, bhai? Coz this makes Ranbir Kapoor your brother – and weren't you taking digs at the Besharam actor on Karan Johar's chat show Koffee with Karan season 4? So from being the one who is taking away everything from you, how did the Kapoor lad become your brother…. from another mother, perhaps?
While it's hard to read between the lines when Salman makes such statements, we cracked our brains and came up with a logical explanation for his remark. C'mon, it's simple – isn't it better to call Ranbir a 'brother' and Kat a 'sister-in-law', rather than admit any more about your private life? After all, Salman never came out to say that he and KK were in a relationship, did he? Yeah, we all knew what the story was, lekin kisi ne directly nahin kaha, hai na? Also, we should all now be used to Salman's not-so-funny quotes. This, especially since for no reason he gets dragged into every episode that involves Ranboo and his 'special friend' who has the new status of being Sallu's bhabhi, no? Poor Salman can't be entertaining every time someone blows a question – no, peeps? As long as Ranbir doesn't call his alleged ladylove his 'sister', we don't mind what anyone calls her, the bhai of Bollywood included.
PS: After hearing Salman's statement, we remembered the song – Kitne ajeeb rishte hain yahaan pe from Page 3…giggle.