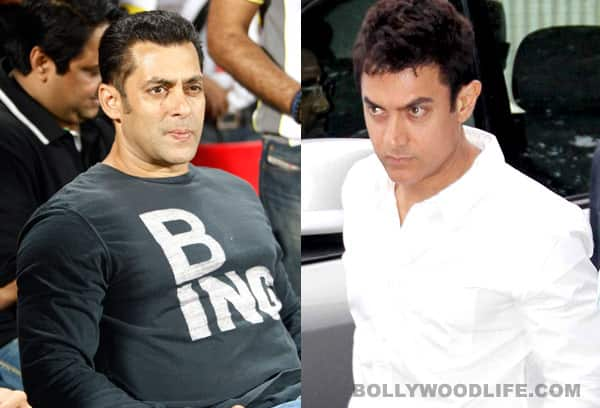 Though Sallu couldn't make it to Aamir's special screening of Ship of Theseus 'coz of a delayed flight, the Dabangg dude had three reasons to stay away from the high-profile event
The goodwill that Aamir Khan has generated over the last two decades or so has certainly makes him one of the most loved and admired actors of Bollywood – that was evident at the special screening of Ship of Theseus, the film presented by his wife Kiran Rao. Aamir and Kiran personally invited B-town friends Ranbir Kapoor, Katrina Kaif, Priyanka Chopra, Rani Mukerji, Rajkumar Hirani, Ashutosh Gowariker, Kangna Ranaut, Imran Khan and Ayushmann Khurrana, among others. And also on the star guest list was AK's Andaz Apna Apna co-star Salman Khan, whose absence was truly felt at the event.
Aamir revealed to the gathered media that the Mental star wouldn't be able to make it since his flight from Hyderabad – where he's shooting for Mental – had been delayed. The Khan-man tried justifying and covering up his friend's absence, but we believe Sallu's staying away was planned!
Knowing Salman to be a typical yaaron ka yaar, wethinks that if he was really keen to attend Aamir's event, he could have managed to be there, however late it may have been. Also, considering the fact that Sallu's party habits aren't in the least bit time bound, lateness shouldn't have been a concern for him; he could've dropped in at the screening even later, just for courtesy's sake, no?
The presence of the alleged lovers Ranbir Kapoor and Katrina Kaif could be another major reason why Salman preferred to stay away from the star studded event – he may not have wanted to see his former ladylove KK with RK, perhaps. Waise bhi, stories about the Ranboo-Kat romance are gaining credence by the day!
The last and perhaps most significant reason for Salman's absence could have been the hordes of media people waiting for him at the screening. Like his ex Katrina, Sallu too has been in the news for his alleged affair with Romanian model Iulia Vantur and everyone wants to know more. And knowing Salman's penchant for privacy, he would have wanted to avoid any probing in that direction, don't you think?