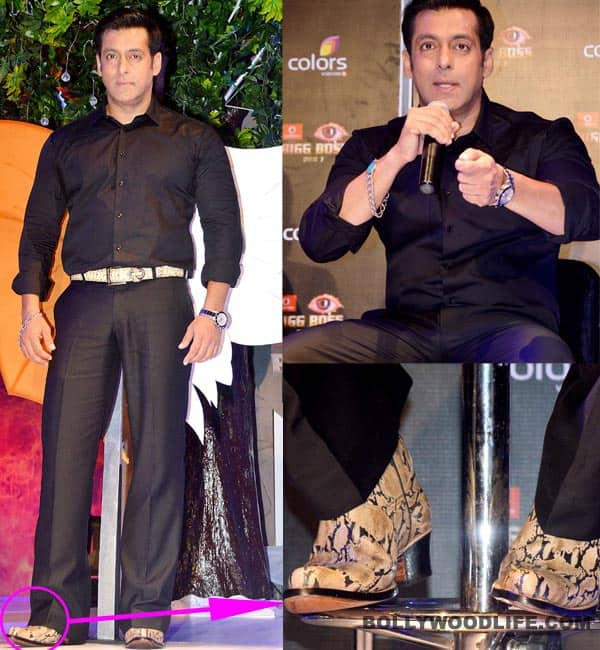 The Dabangg dude looked cool in his all black avatar. And then we looked down at his feet – why those shoes, Sallu?
At the press conference to announce the start of Bigg Boss 7, Salman Khan decided to go all black. The Bodyguard actor looked quite a hunk in a plain black button-down shirt and black pants. And as he flashed his superstar smile, our heartbeats soared to a never-felt-before high! And then we looked down and flinched. What grabbed our attention – and not in a good way – were his dowdy belt and so-uncool shoes.
As he launched the reality television show, Salman looked as hunkalicious as ever, but for those snakeskin Cuban heeled joota. The animal boots and a matching belt looked oh-my-god hideous and we so wish he had opted for something more classy to go with his otherwise sumptuous appearance. What added to his soigné savoir faire was his black and silver watch, which looked quite elegant. Also, Salman didn't part with his lucky turquoise stone bracelet. Overall, our Dabangg dude was the dude we all know and love…. except for those reptilian accessories, of course. So while we'd normally give Salman eight out of ten for this appearance, his rating kinda sinks every time we think about the boots. What do you think, BollywoodLifers?