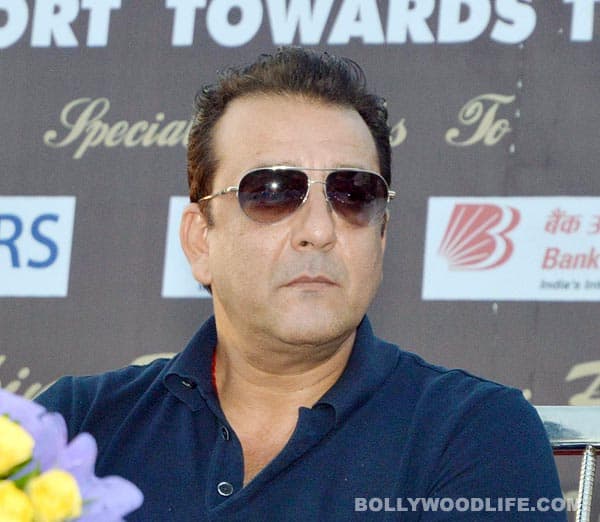 Some reports suggest it's because the Munnabhai actor posed with the jail authorities that irked the state administration while some say security reasons
Last week, Sanjay Dutt's bearded pic rehearsing for a play in Pune's Yerwada jail made headlines. The Munna Bhai actor, who is currently serving his term in Pune-based jail in connection with the 1993 Mumbai bomb blasts, was clicked rehearsing for a play that he was supposed to enact along with his inmates yesterday (September 26) and planned to raise welfare funds for the convicts.
Dutt was supposed to perform on Shahrukh Khan's song Lungi dance from Chennai Express. There were reports that the Yerwada Central Jail authorities had roped in filmmaker Rajkumar Hirani to supervise the play titled Teemiratun…Tejakade (from darkness to light). The play was supposed to feature 20 prisoners apart from Sanju baba and was schedule to take place at Bal Gandharva Auditorium in Pune, and Home Minister R R Patil was to attend. If everything was organised, then why was the play meant for a noble cause called off?
According to a tabloid report, the photograph where the 54-year-old actor is seen posing (happily) with the prison authorities assuming them to extend special treatment to the star has annoyed the state administration. Government sources suggest that Additional Chief Secretary (Home) Amitabh Rajan and other top officials felt that a movement was being used to glorify a jailed actor.
"They gave so much attention to Dutt and made him the main attraction of a prison activity. Tomorrow, they may try providing him better food and other luxuries inside prison. We cannot encourage such special treatment to any inmate," a senior officer on the condition of anonymity informed the tabloid. On the other hand, insiders say jail authorities decided to abandon the show last minute citing security reasons. (quite bizarre, no?) The Policegiri star's family including wife Maanayata Dutt, sisters Namrata and Priya with their husbands, Rohit Shetty and Bunty Walia were already on their way to Pune when they received an SMS informing them about the cancellation.