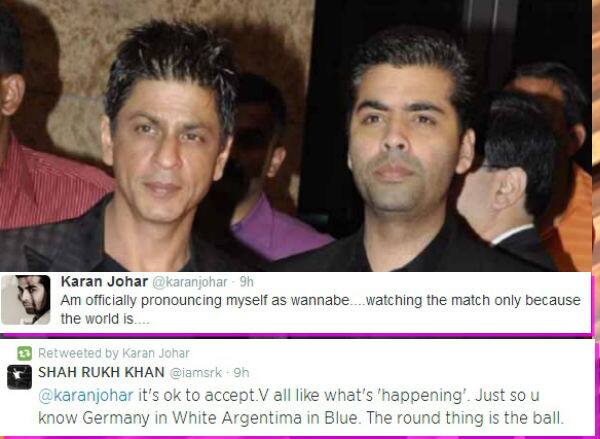 The actor and director were both watching the FIFA final between Germany and Argentina yesterday
We all had that one friend in our group who pretended to be a know-it-all about FIFA this World Cup season. Now we have someone like that in the film fraternity as well!
We are talking about a filmmaker who decidedly knew nothing about football but didn't shy away from admitting that he was watching the finals just because the rest of the world was! Karan Johar who knows a thing of two about film-making doesn't quite know much about football but he chose to watch the final FIFA game last night and even tweeted unabashedly about how he is a wannabe.
To that none other than Shah Rukh Khan tweeted a reply saying, "It's ok to accept.V all like what's 'happening'. Just so u know Germany in White Argentima in Blue. The round thing is the ball." Now now SRK that was a bit too much of leg-pulling!
KJo knew that King Khan was only jesting and continued to watch the match till the very end! He totally set an example for the fake football hypocrites yesterday. Bravo, KJo!