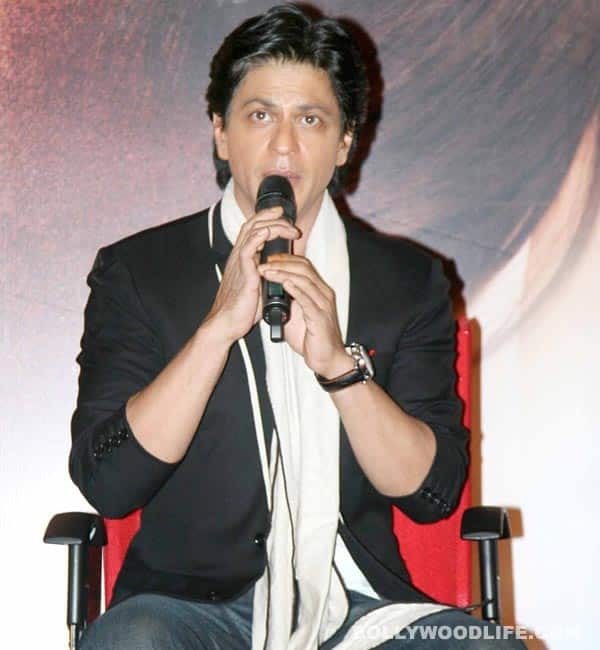 The Baadshah of Bollywood, whose films have broken several box office records over the years, lost his cool when asked whether his next Jab Tak Hai Jaan could enter the coveted Rs 100 crore club. We wonder why this question irked SRK
Shahrukh Khan is often at his best behaviour in front of the media and remains calm, cordial and cool during his interactions with the press. However, it wasn't the same at a recent press conference held to promote Yash Chopra's Jab Tak Hai Jaan.
The actor was in a jolly mood answering few sensible but mostly nonsensical queries with his witty one-liners till he finally lost his cool. On being asked whether JTHJ would touch the Rs 100-crore mark, here's what the angry actor said, "I don't understand why you people (media) always tend to evaluate everything in terms of numbers. It's not right. You guys have taken the term 100 crore far too seriously. What is 100 crore – just a figure? How can you evaluate uncountable and immeasurable feelings attached to a person who works hard to make a good film? Har cheez ko kaise number de sakte ho? Soon we will witness the time when you start numbering your kids instead of giving them a name."
The actor then unnecessarily dragged his co-stars Anushka and Katrina into the whole thing by saying, "For instance, if Anushka delivers a baby tomorrow, will you want her to number her kid instead of naming him or her? Will she name her kid as 10, 45, 567 Sharma? Personally speaking, numbers don't matter to me. I have been in Bollywood for over 22 years now. I have seen good days and bad days. I have made good money and earned respect as an actor. So after a point, these things don't really bother me and it shouldn't bother others too."
The pressure is now mounting on King Khan considering he has stiff competition from Ajay Devgn's Son of Sardaar. While Ajay has already been part of two 100-crore hits, Singham and Bol Bachchan in the recent past, a Shahrukh movie is yet to hit that target.
Going by SRK's innate ability to fight back, we are sure that with JTHJ he will regain his lost glory! What say readers?