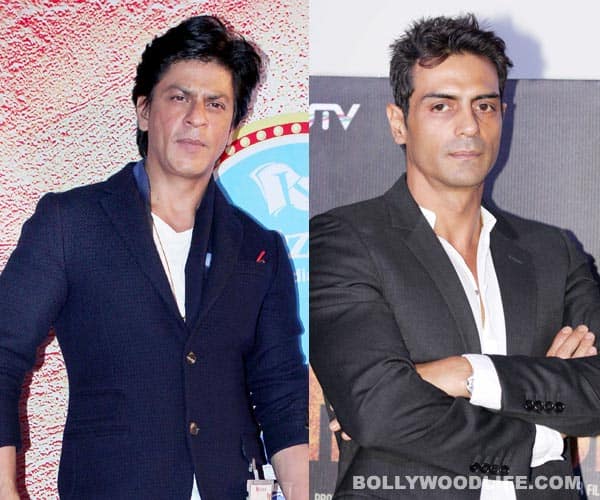 After months of keeping safe distance from each other, Shahrukh Khan and Arjun Rampal were spotted chatting at a recent awards function. SRK even gave the RA.One baddie a warm hug. Have the two buried the hatchet or did they have no option but to greet each other cordially?
Let's be honest! This shocking incident that our little birdie witnessed at the Screen Awards recently can potentially draw various inferences and may lead do different conclusions. But nobody knows the real intention behind the cosy hug that Shahrukh Khan shared with his friend-turned-foe Arjun Rampal at the glamorous do. And hey, this strange occurrence did not happen on the big stage just to show the world that all is well between the two. In fact, the two warring stars were seen chatting and getting close to each other in the parking lot!
It so happened that when SRK was approaching his vanity van after the awards ceremony, he spotted Chunky Pandey and Arjun Rampal in the parking lot. In what can be called an inescapable situation, SRK waved to Arjun and chose to walk up to him. He then hugged his RA. One co-star and even chatted with him for a while.
The cracks in Arjun and King Khan's once friendly relationship appeared when the two started having creative differences over their ambitious project RA.One. Arjun wasn't particularly happy with the way his baddie character was fleshed out in the movie. The equation between the two later turned sour when Rampal and his wife Mehr Jesia, who are good friends with SRK's wife Gauri Khan, warned Baadshah Khan about his increasing proximity to Priyanka Chopra which had started becoming the talk of B-town. SRK did not like that interference. The two then drifted apart and even started avoiding each other.
But this hugging business that our khoofiya jasoos witnessed has really left us confused. Was this a sweet gesture on Shahrukh's part or was it just an act to deal with the situation tactfully without making it messier. Only Shahrukh can answer that one!