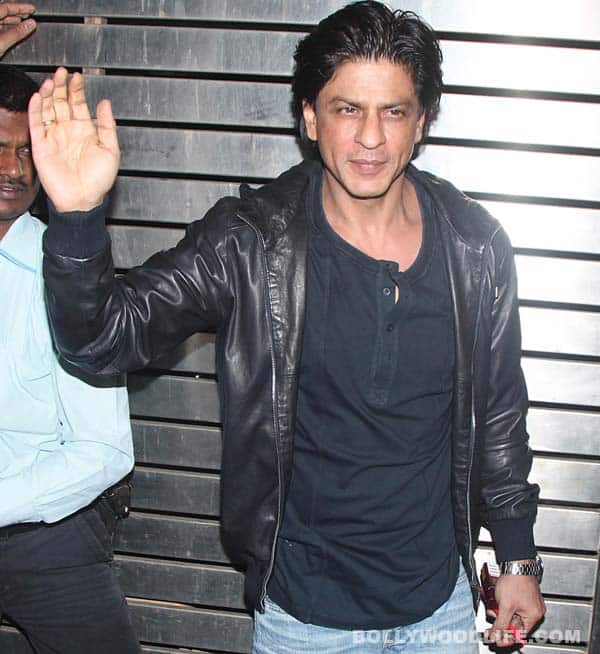 We think the superstar's impromptu drop-in to the Bachchan home was purely a result of his love for children!
We weren't a tad bit shocked or surprised when we discovered that superstar Shahrukh Khan – who was at Hrithik Roshan's house – suddenly decided to drop by at the Krrish superhero's neighbours, the Bachchans. And he spent a good hour playing with the youngest Bachchan, Beti B Aaradhya. That encounter was followed by a discussion between SRK, Farah Khan (she was already present at Jalsa) and Abhi that went on till 1.30 am.
Apart from the fact that the Badshah of Bollywood had not yet met the daughter of his former co-stars Abhishek Bachchan and Aishwarya Rai Bachchan – the infant is, in fact, a star even before her first public appearance – it's the superstar's love for children that was the reason for the sudden visit, wethinks.
How do we know? Haven't you noticed the calm glow on Shahrukh's often stressed out face when he's around his son Aryan, daughter Suhana and their friends? Or even when he is surrounded by kids during some promo activity?
Not many know that the Don 2 star is extensively involved in charity for children. A long time ago, he donated money to create a vibrant ward – that is named after his late mother – for child cancer patients at a well-known Mumbai hospital.
More recently, during the premiere of Ra.One in Dubai, the superstar held a dinner and charity auction for building a workshop for children with special needs. Also Shahrukh, who is highly guarded about his noble work 'coz of his religious beliefs and personal reserved manner, is on the board of directors of the famous children's NGO, Make A Wish Foundation! Get the drift?
So all those gossipmongers looking for spice in SRK's sudden stopover at the Bachchan household can take a hike. There's nothing unusual about this one-night affair!