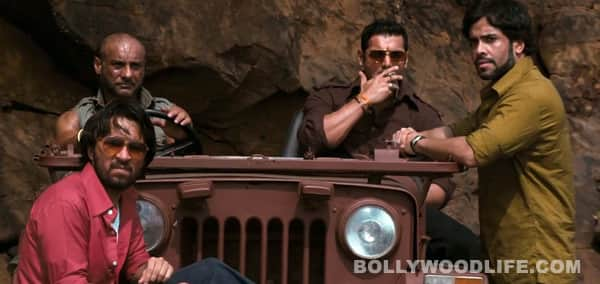 The screenings of Sanjay Gupta's action flick were banned in several cities of the state after some organisations expressed concerns over its objectionable dialogues
Though Ekta Kapoor's co-production has been making waves all over the country and doing excellent business at the box office including overseas, it's been criticised for over-usage of cuss words and disturbing dialogues. News is that the screening of the masala entertainer, Shootout At Wadala was cancelled on Sunday at several theatres in Ludhiana, Moga (Sonu Sood's birth place), Jalandhar, Bhatinda and Amritsar after an outfit – Bhartiya Valmiki Dharam Samaj complained that a couple of dialogues from the movie have offended their community.
From what we hear, Laxman Dravid, National Director of the outfit, and his men have already sent legal notices to producer Ekta Kapoor and director Sanjay Gupta. "They should think twice before saying anything against Valmikiji. These dialogues could have serious repercussions in the whole nation," said Laxman.
Joining Bhartiya Valmiki Dharam Samaj in their mission is another group called Dr Ambedkar Ekta Mission. "In one dialogue, an actor has used foul language while describing Valmikiji by saying 'Har chor Valmiki nahin hota' and another mouthed by John, 'Eklavya ne angutha diya tha, main poora haath de dunga.' If these two dialogues are censored, we have no objection to the movie," said Deepak Hans, President, Ekta Mission.
With India being a religious country consisting of overtly-religious people, these things are bound to happen, no?