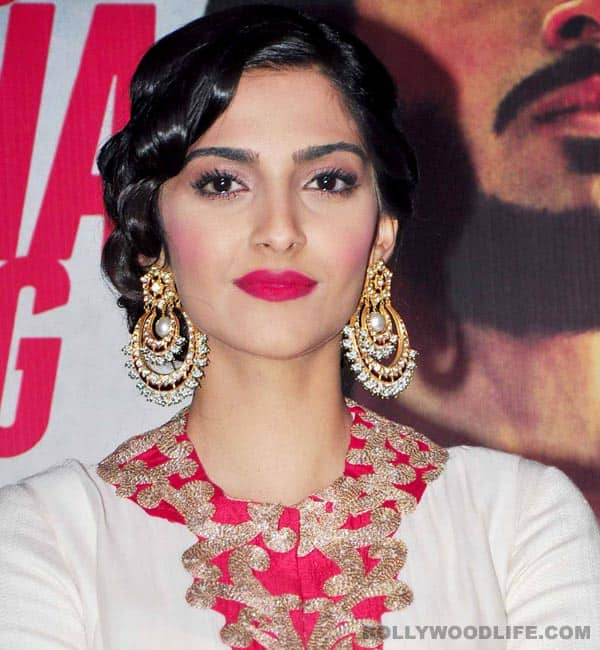 The stylish babe could not hold back her starry tears at the trailer launch of Rakeysh Omprakash Mehra's new biopic based on the life of the iconic athlete Milkha Singh
We saw something unusual yesterday at the trailer launch of Rakeysh Omprakash Mehra's much-talked about Bhaag Milkha Bhaag starring Farhan Akhtar in the lead role. The movie also has Sonam Kapoor playing the love interest of Farhan's character. While in the promo Sonam looks all chirpy and giggly, at the trailer launch event yesterday we spotted the Kapoor gal shed a tear or two!
The style diva is usually seen beaming with pure enthusiasm and tremendous energy. But the moment she arrived on the stage last evening, Sonam was trying hard to hold back her tears. Watching the 28-year-old getting emotional, Farhan Akhtar had a lump in his throat and was visibly choked. But why were the two so moved? What was going on?
And then we found out, as the screen burst into life. So moving is the promo of Bhaag Milkha Bhaag that we felt all goosebump-y. We were privileged and thrilled to see the real Mikha Singh there, the athlete who made India proud with his remarkable achievements.The air at the do was charged with wild passion for sports and tremendous national pride. The Flying Sikh's presence gave a touch of nostalgia to the event.
And explaining her tears Sonam said, "Emotions make me emotional. And the kind of emotions this film evokes is for all to see." Farhan too maintained that he's privileged to have got the opportunity to tell the extraordinary tale of India's living legend, a man who – like so many others – could have been forgotten in the hustle and hurry of time.