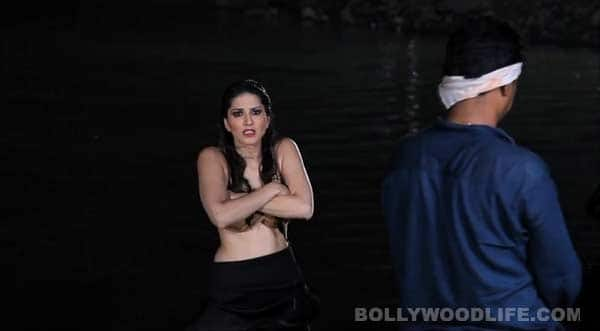 The hottie goes relentlessly naughty with her titillating antics yet again. Watch Sunny warming up …errr preparing before she steps into the water to deliver the bold scene
While Sunny Leone stripping down to absolute nothingness right in the dead of a foggy night as she steps into the cold water of a remote lake might fuel our naughty imagination, but getting that scene right to make it look cinematically enticing-and aesthetic in equal measures- requires a lot of errr..'hard work' and patience.
The Canadian porn star shows us that she did not have it easy when it came to stepping into the rather muddy and mossy waters of Vasai lake on the outskirts of Mumbai. The makers of Ragini MMS 2 tried every trick in the book to make Sunny look hot and the situation inviting, as the babe takes off her top and the bottom piece to wiggle it only to titillate the camera and her "prey" in the horror flick.
Watch the video to know how the cast and crew of Ragini MMS 2 had to sweat it out to make the end result of their endeavour look sizzling. As for Sunny, well the babe showed no hesitation to do what is expected from her to give a perfect..ahem ahem 'shot'! Take a look!