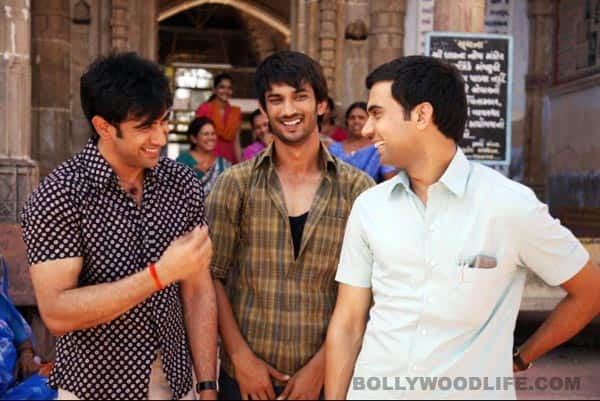 The three young actors reveal in a candid conversation what the secret of their shared chemistry is and why they decided to bare their torsos
When we arrived at Mohan Studios to interview the stars of Abhishek Kapoor's Kai Po Che! – Sushant Singh Rajput, Amit Sadh and Raj Kumar Yadav – we heard music blaring from their vanity van, punctuated with cries of 'Kai po che!'. And the moment we walked in, we saw the boys having a good time and realised that their onscreen bonding and chemistry carried on into real life. So when we sat down to chat, there was not a dull moment…..
You seem to have become great friends…the bonding is visible. Were you guys having as much fun while shooting too?
Sushant Singh Rajput: Yes, the chemistry and the camaraderie was there even during the making of the movie.
When did you guys first meet?
Raj Kumar Yadav: It was 3.30 pm (grins).
Sushant: On a Saturday.
Was this after you had already signed the film?
Amit Sadh: We actually met for the first time when we were giving our screen tests. Casting director Mukesh Chabbra called us in for the audition and asked us to give a screen test together as our characters. So this bonding that you see has been there since the first day.
I hear you did several rehearsals…
Sushant: Yes, we did workshops. But the required chemistry was there. The film is about the chemistry between these three guys, so there was no competition. We were acting for each other. I stole Amit's line, by the way!
Sushant and Amit, you two are making your debut and looks like you are paired with Raj Kumar Yadav. No heroines for you?
Amit: Raj has the girl. Sushant and I are paired opposite each other! (laughs)
This is not a conventional debut. You don't really get to show off your dance moves or romance the heroine….
Amit: We did get to show off our bodies.
Raj didn't take off his shirt though…
Raj: Yeah…my character is like that.
Amit: He doesn't have to do it – he already has the girl!
Raj: Yes, only she has the right to see my body…
Sushant: Who 'she'? (looking stern) Oh…you are talking about my sister in the film! (Raj is dating Sushant's onscreen sister in the film)
Raj: Oops…I am sorry.
You have wanted to be in the movies for a long time now, right, Sushant?
Sushant: Not really.
Raj: Can I answer that for him?
Sure…
Raj: I was planning to go to UCLA to study filmmaking. I was even ready to open a canteen in Film City. I would have been happy with that. At that time I got a few film offers, but I didn't like anything. When I read the script of Kai Po Che! though, I got goosebumps. (Amit and Sushant giggle as Raj speaks)
What would your answer to this question be, Sushant? Is Kai Po Che an ideal launch for you?
Sushant: It is. To be a part of such a good script and to work with UTV and a director like Abhishek Kapoor is great.
What were your thoughts, Amit, when the film came to you, about your character?
Amit: Initially, when we came on board, we didn't know much about the characters. We did workshops. Kai po che means jab patang kat jaati hai (the string of the kite gets cut) and it's a victory call. It's metaphoric.
Have you read the book?
Raj: Yes.
Amit: Which book? (looking confused)
Three Mistakes Of My Life by Chetan Bhagat…the book on which this movie is based.
Raj: I have read it.
Amit: He reads all his (Chetan Bhagat's) books.
Raj: Yeah…Chetan and I wrote the book together. From the very beginning he wanted me to play Govind.
How close is the movie to the book?
Raj: The incidents and characters are the same…
(Sushant whispers to Raj)
Raj: Kya? Nahin bolna hai?
Amit: It's adopted…oops…adapted (laughs). No, but actually it's an adopted child.
Raj: There are many things that have been retained but, yes, we have changed quite a bit of it, because writing a book and making a film are two different things. So for that reason we had to make some changes.
After doing Love Sex Aur Dhoka and Ragini MMS…
Raj: No, I didn't make any MMS after doing these films.
Did you feel you would get typecast because both these characters were in the same zone?
No, after LSD I did Chittagong and then shot for Ragini MMS and then Gangs Of Wasseypur. So I didn't feel like I was getting typecast.
Sushant, you have already signed two more films – does that take the pressure off your debut film?
Raj: Do you feel secure now?
Sushant: I was never insecure, seriously! As he (Amit) rightly said…which was my line actually!
Amit: All the lines are yours!
Sushant: What I wanted to say was that even if I don't have any films next year after these three, I would be excited. I can do something of my own, probably make short films. And these two can also be a part of it.
Raj: Write a good script then.
Very few actors have managed to make a successful transition from TV to movies. After making this big move, do you see yourself going back to TV and doing more shows or soaps?
Sushant: As an actor, if you are capable enough to play a character in a convincing manner, then you can do it in theatre, in front of the TV camera and in front of a film camera. From an actor's perspective, there is no difference. If you are capable enough people will accept you, because you can convince them in any medium. I think TV actors are as capable as any other actor, and sometimes better than some actors.
What about you Amit – do you see yourself doing more TV?
Amit: Like Sushant says, acting is acting. Whichever the platform, you just have to go and give your best. And wherever the good stories are and wherever you get to play challenging characters, you can be available there.
Do you feel stuck when doing a TV show because it can go on for five to six years? A movie, on the other hand, gets done more quickly and you move on. As an actor and as a person, which process do you enjoy more?
Sushant: If your priority is fame and money and if you are a big hit in a popular TV show, great! It's very hard to say no to that kind of money and fame. When you are at the peak, it's a big risk to quit that show and try films. But if you like your work and want to try different things, you decide to take the plunge. Movies are superb because you can finish shooting in three to four months and can move on to another character and work on something new. It's very risky, but very good for an actor.
Amit: TV gets monotonous. There is no catharsis. You just play one state of mind. In films you get to see the entire journey of a character.
What was Abhishek Kapoor like as a director?
Raj: For an actor, he is a dream director. The kind of faith and trust he has given us is amazing. He is so passionate and so focused. And he's as childlike as us. He focused only on making a good film and so we also focused on that.
Was shooting in Ahmedabad fun? What did you do when you were not shooting?
Sushant: We were shooting every day, actually. We were screwed there!
Amit: It was really hot…about 48 degrees.
Sushant: That's why we took our shirts off, actually. We weren't trying to show off our six-pack abs!
Amit: People are very warm there.
Raj: Really, really warm!
Amit: They would feed us golas and food. Wonderful people!
Raj: We had a wonderful time in Ahmedabad.
Amit: We loved the food there. Raj finished all the paneer. Did you read Ahmedabad Times?
No I didn't…
Amit: For a week there was no paneer in Ahmedabad. He (Raj) ate it all!
Sushant, recently Anushka Sharma – who is your co-star in P.K. – said in an interview that you had only eight days of work in the movie and you are just a small chapter in her life. How do you react to that?
Raj: Dhyaan se, dost…(cautiously my friend)
Amit: Yeh wo wala sawaal hai (It's that kind of question).
Sushant: I will have to check the schedule to know exactly how many days I am shooting. As far as being a small chapter is concerned, I hope it's an interesting one in her (Anushka) life. I come from the school of actors who believe there are no small roles, there are only small actors. In my first film (Kai Po Che) I am working with two other actors, in Maneesh Sharma's movie I am opposite two heroines and in my third, I am working with two lead actors. So I can stand in a crowd in the frame of a director like Raj Kumar Hirani and still be a proud actor.
Watch video interview: