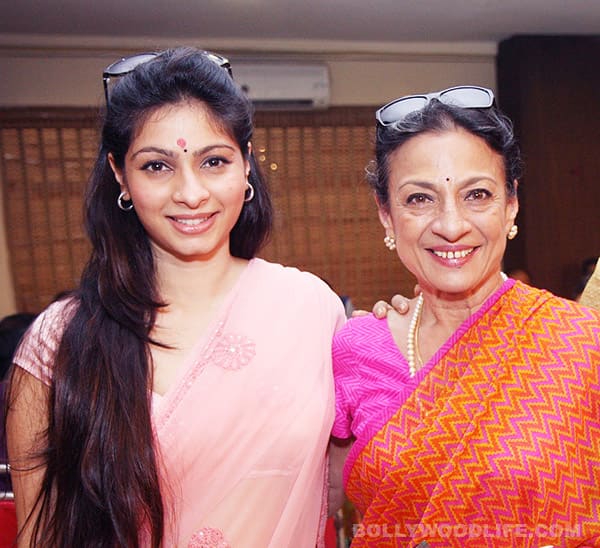 Kajol's mother finally made her feelings clear about the reality show after her younger daughter made her exit post losing to Gauahar Khan
Tanuja has finally spoken about her daughter Tanishaa Mukherji's stint in Bigg Boss 7 and it seems as if she is happy about it, contrary to reports stating that she was upset with with her younger beti. Ever since it was announced that Tanishaa would be a part of Bigg Boss 7, rumours started doing the rounds about Tanuja, Kajol and Ajay Devgn being not too pleased about the actor's desire to participate in the reality show. However, in a recent interview with a leading daily, Tanuja claims that it did bother her in the beginning, but it's "no big deal" and they all continue to "stick together" as they are a family. Frankly, this doesn't come as a surprise to us. She is a fond mother, hai na?
When the veteran actor was asked about Tanishaa and Armaan Kohli's proximity in during their stay in the glass walled house, the lady got a bit annoyed and this what she said: "My family is sacrosanct and I guard them fiercely. People think it is their janam sidh adhikar to ask us whatever they want to, but why should I answer? I have never bothered about the press in my life, not even during my heydays. I never clarified anything." So what about those stories about Ajay threatening the makers of the show demanding Tanishaa be pulled out of the house? "Why would Ajay do something like that? We were okay with Tanishaa being on the show," Tanuja clarified.
It didn't end there. Tanuja also confessed that she wanted to "slap everybody silly". Woah! Now that makes us wonder – is there anyone specific that she is talking about? Could it be her daughter Tanishaa's not so good friends Gauahar Khan and Kushal Tandon? What do you think, BollywoodLifers?