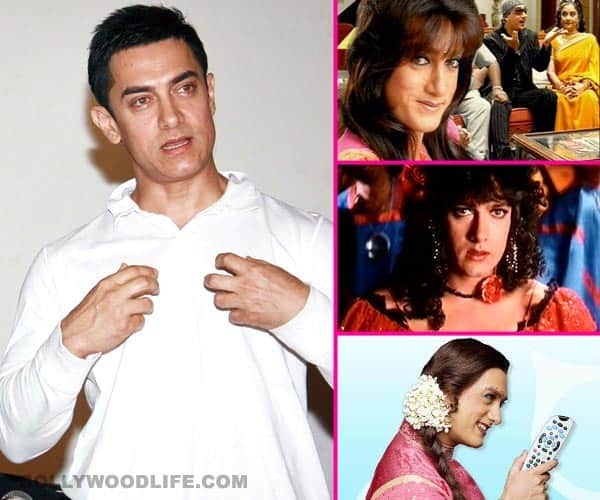 The actor will put on lipstick, high heels and a frock for an advertisement, his fourth such appearance
Remember a chocolate-faced Aamir Khan in Dole dole dil dole from Baazi? Yes, he was disguised as a woman in that 'item song', and looked rather convincing and pretty, we thought! And he must've agreed, coz Aamir again chose to be a woman – half-woman half-man, Kishore Kumar style – in a Tata Sky commercial. He was also decked up in lady-togs as Manno Bhabhi for a Coca-Cola ad, plugging a brand he endorsed for many years.
And now buzz is that Ace Khan is up to his old tricks yet again, also for an advertisement. Makeup artiste Mickey Contractor, who created Aamir's look for all his earlier 'female' appearances, is on the job this time too. Reportedly, Mickey experimented with Aamir's getup in Jaipur, where the actor has been shooting for Rajkumar Hirani's P.K. with Sanjay Dutt.
We can just imagine the amusement on the sets of the film. On the one hand, Aamir wore a ghagra-skirt for P.K. and on the other, he wore a pair of stockings, a bra (sexy lingerie, we hope!), fake eyelashes and girly dresses. Whew! What's with this feminine fetish, Aamir?
In an interview in 2008 while shooting for the Tata Sky campaign the actor said, "Playing a woman has become easier. After Baazi and Manno Bhabhi, I am used to it." Sure, Aamir, no wonder then…there you are again! Is it the fan janta who writes in letters to Aamir asking him to dress as a woman? Or is it just Aamir and his wild fantasies? Any idea, guys?
ALSO SEE: Aamir Khan's experiments with style