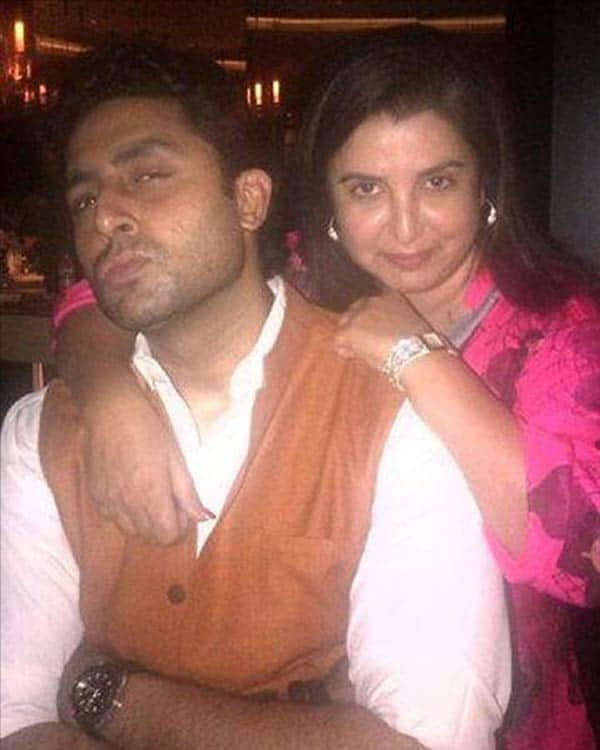 The Happy New Year star seems to be in love with the food prepared for him by director Farah Khan. So is it just because of tasty delicacies that he is not taking an off on his birthday, or is it something else?
Farah Khan treats Abhishek Bachchan like a baby on the set of Happy New Year. She always makes sure that he gets to eat well on sets. Whenever possible she cooks and brings food especially for AB junior. But does that mean he doesn't take an off on his birthday just to have some tasty delicacies prepared by Farah?
A little birdie informs us that the Om Shanti Om filmmaker recently found out that Jr Bachchan doesn't like the breakfast served on the sets of her film Happy New Year. She thus took it on herself to make breakfast for the Dhoom:3 star every morning before coming to shoot, just the way he loves it.
Abhishek Bachchan, happy birthday!
Talking to a leading daily the Bluffmaster star laughed about this gesture from Farah and mentioned that he loved her cooking a lot. On a serious note he commented that he always loves his birthdays to be jam-packed. He informed that all the Dhoom films were shot during his birthday, and so were Bunty Aur Babli and Bol Bachchan. This year he would be busy with Happy New Year and All Is Well. By evening he would also be rehearsing to host an awards show. Thus he would be busy all day long as he considers working on his birthdays as lucky.
Is Abhishek Bachchan obsessed with 8 pack abs?
So that is the real reason after all. Wethinks actors should definitely do whatever works for their film, and in this case, even this small bit of prejudice. We wish him all the very best on this day and hope he gives us some more movies to remember him by. Hai na peeps?