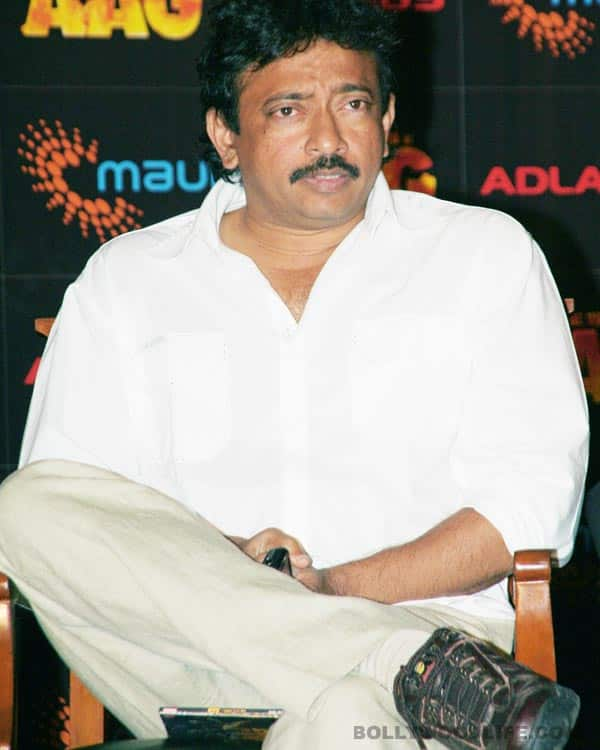 The Department director has not just faced the ire of reviewers, but has now also been snubbed by his lead actor Sunjay Dutt and producer Dharam Uberoi
Ram Gopal Varma has always been known for breaking rules, ever since he made his debut in Bollywood with the Nagarjuna-starrer Shiva. With his latest, Department, he not only broke all the rules of conventional wisdom and filmmaking, he also broke whatever little trust his diehard fans had. It was sheer torture sitting through the Amitabh Bachchan-Sanjay Dutt starrer – a unanimous reaction – and we now hear that all is not well between the filmmaker and his lead actor and producer. There has been a public spat between RGV and Dutt and producer Dharam Uberoi and the two sides have sworn not to work with each other ever again.
And the brand new war has found voice on Twitter. RGV tweeted, "Whatever else happening to Department I am supremely happy that I don't want to see the faces of Sanjay Dutt and Dharam Oberoi (CEO of Sanjay Dutt Productions) for the rest of my life". He even had something to say about the cast of his film: "From forcing me to take Kangna out of the film to constantly cornering me to change screenplay, I had the most horrible time working with Dutt". And reacting to both Oberoi and Dutt's criticism of the film, he has this to say – "If Dutt and Oberoi think I am the bad in Department, lets wait for Zilla Ghaziabad and Soham's film where I am not there to spoil their creative inputs". Whether it is the responses of a spoiled child or just typical RGV-speak we do not know, but we wait to hear more in this particular tomcat-fight!
But along the way, we have often wondered how Ramu manages to find producers for his films, despite the fact that most of his recent works have been disasters at the BO. The maker of films like Rangeela, Satya and Company has been doling out duds like Agyaat, Rann, Not A Love Story and his latest, Department. Other than the Bachchans, hardly anyone has anything positive to say about the maverick filmmaker. We spoke to one of his assistant directors who said, "RGV has to get rid of his 'yes men' immediately if he has to get back in form. Gone are the days when struggling filmmakers thought that he was the messiah of good cinema. He has reduced himself to a joke."
We are wondering what happened to the man who mentored Anurag Kashyap, Jaideep Sahni, Shimit Amin, Sriram Raghavan and many others. While Kashyap has started his own production house, Sahni and Amin have collaborated with Yash Raj Films. Raghavan whose debut film Ek Haseena Thi was produced by RGV's 'factory', has now joined hands with his EHT star Saif Ali Khan and will be making films with Illuminati Films, the Nawab's production house. The fact is that those who had talent have moved out of Ramu's camp.
One thing everyone says about RGV: he is too arrogant for his own good. Not just that, he is very manipulative and his passion for cinema has been replaced with his passion for his muses. Most of his films are disasters because he will not listen to anybody's feedback. A protégé who didn't want to be named said, "It is a nightmare working with him; he treats his assistants very badly and strangely, they end up becoming his clones – some even start talking like him!"
RGV is smarter than the average director, with a trademark auteur style; an absolute original. The creator of more than a few influential films that ventured into largely unconventional territory to break new ground, he has to his credit a host of interesting but flawed works. He was the dream merchant for so many unorthodox faces and talents till just a few years ago. We wonder where he has lost his magic touch. Each time he announces a film, we hope it is his comeback. But it never is. Do we wait longer? Will anyone want to even watch anything he makes in the future? Who knows. For now, will the real Ram Gopal Varma please stand up!
ALSO READ: Why is Anjana Sukhani upset with Ram Gopal Varma?
Ram Gopal Varma loses it big time