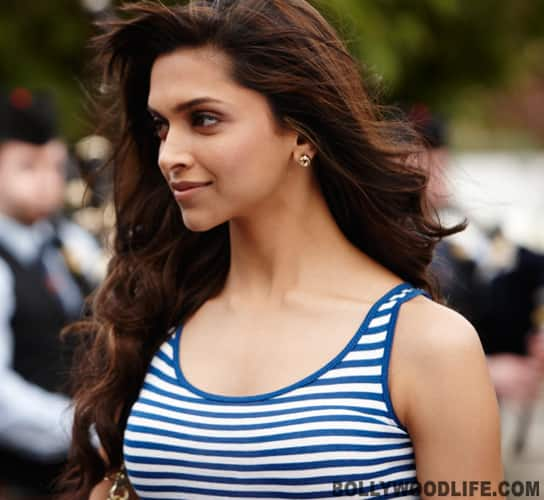 The leggy lass will be seen sharing screen space with Rajinikanth and Shahrukh Khan – that is just about as big as it gets for any actor
Deepika Padukone captured imaginations with her 'Dreamy Girl' debut in Farah Khan's Shahrukh Khan-starrer, Om Shanti Om. She has been around for a while now and despite not having any blockbuster hit (Rs 100cr grosser) on her resume, she is working with Superstar Rajinikanth and King Khan in their forthcoming films. For someone who is not from a film family, this is a mean feat in itself. Though Kareena Kapoor, Priyanka Chopra and Katrina Kaif are leading the game, it seems that Dippy will catch up with them soon, thanks to her strategic North-South balancing act.
If Rana and Chennai Express (Her films with Rajinikanth and SRK respectively) manage to set the cash registers ringing at the BO, Deepika will be right on top, in a similar league to the likes of Sridevi and Meenakshi Sheshadri, who had successful film careers in Bollywood as well as down South. It also helps that DP is a South Indian herself and mouthing the lines in the appropriate language isn't a nightmare task for her. Is Deepika looking at capturing a wider fan base, or is she trying to have a backup career option ready by doing South Indian films? Of course, Katrina did her share of those too, but once her Bollywood career picked up, she seems to have bid adieu to them. Now we wait to see if Dippy walks in Kat's shoes.
Kareena Kapoor and Priyanka Chopra, the reigning queens of Bollywood, are too busy with their Bollywood assignments to even consider doing a regional film. This gives Deepika the required space to pick and choose from the plum assignments coming her way from down South. Do you think that it is a smart career move for Ms Long Legs, or should she stick to Bollywood…at least for now?
ALSO READ: Deepika Padukone back in Race 2 without any conditions