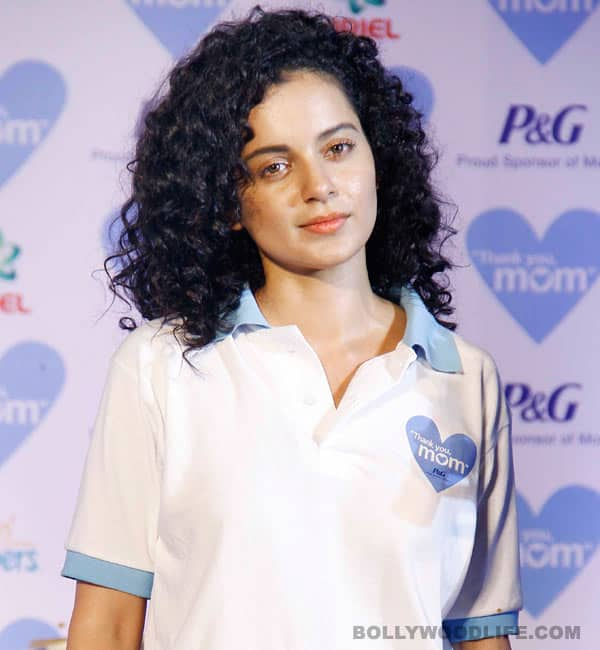 The curly-haired hottie is already running on a tight schedule with quite a few films in her kitty. But it seems that the Krrish 3 babe is no mood to keep herself available for more movies – she has other plans!
Yes, Kangna Ranaut is planning to take up walking the ramp, at least part time. The Himachali kudi says she enjoys the adrenaline rush she gets while modelling – and she did it just fine in Fashion, remember? – and hence she wants to continue doing so. We all know that she is a pretty avid fashionista, keeping in with trends and sporting the latest styles. But if fashion is her passion, then Ms Ranaut should have never distanced herself from it, right? Wethinks Kangna deliberately wants to keep herself busy so that she is left with no time to get herself into the trouble she seems to attract. After all, Kangs does have a knack for rubbing people up the wrong way and, to complicate matters, suffers from foot-in-mouth syndrome too. Her panga with Ekta Kapoor, that infamous fall-out with once-upon-a-time good friends Sanjay Dutt and Ajay Devgn and, not that long ago, her tussle with Ungli director Rensil D'Silva have earned her the reputation of being 'difficult'. Now if she wants to continue bagging good roles – and we all know she is a good actor – this is one tag she needs to do away with, no?
Besides creating unnecessary hurdles for herself in her professional life, Kangna has one more problem to deal with – a not-so-happening-love-life! From Aditya Pancholi to Adhyayan Suman to a firang doctor, the mysterious Nicholas Lafferty, Kangna has always chosen the wrong man. Well, that's the reason none of her relationships worked out, maybe. Wethinks that if the Tanu Weds Manu gal had no time to spare, she would avoid all this drama, followed by speculation and gossip!
We aren't sure if her new mantra will work, but Ms Ranaut (pronounced 'ra-note' she explained recently) surely needs to stay away from all the trouble – at least for some time. Any designers willing to take on this Fashion-able babe?