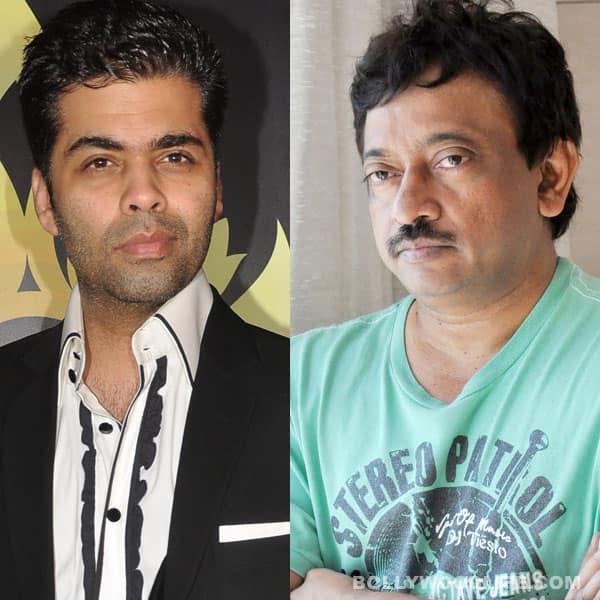 The two filmmakers reportedly buried the hatchet a couple of months ago and became friends when Ramu invited Karan to see his movie The Attacks of 26/11. So why did RGV post an unpleasant comment about KJo's Student Of The Year on Twitter on the eve of Teachers' Day?
While talking to us exclusively few months ago, Ram Gopal Varma admitted that there's no bad blood between himself and director-producer-judge-actor Karan Johar. RGV agreed that he makes fun of KJo as much as the Student Of The Year producer does Varma. "It's the media that instigates us to react to each other's comments," said Ramu at that time.
Whenever Karan decides to release a film, you can be assured that RGV will make some outrageous comment or the other, taking a stinging jibe at the candyfloss filmmaker. And KJo returns the favour every time he gets the chance to do so. In the past the two filmmakers have locked horns and it's been fun to read/listen to, as their comments have gradually become more funny with every new movie.
The Bhoot director don't really need a movie release to strike with teekhey comments against his 'good friend' on Twitter, this time on Teachers' Day. With his characteristic flair he again took potshots at Karan. As expected, his tweets went off on a different tangent altogether. "If someone takes off from Karan Johar's Student Of The Year and makes Teacher of the year it will become the Disaster of the year," tweeted Ramu. And the retaliation was almost instant. KJo retorted, "Disaster of the year is your territory Ramu…no one can ever replace the comfortable place you have made for yourself there."
Wethinks Ramu was slightly taken aback by Johar's quick response and clarified that his tweet was a compliment, not meant to be nasty. "Hey Karan my tweet was in a series I put on teachers day nd that tweet was about some1 taking off from u meaning it a compliment." Last we heard on this matter, KJo had deleted his response.
But somehow we don't quite believe the Satya filmmaker. Do you?