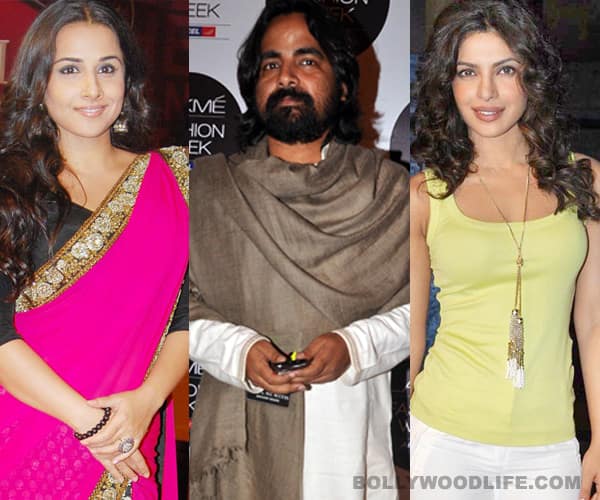 The designer's good friend filmmaker Sanjay Leela Bhansali wants him to work on Priyanka Chopra's look in Ram Leela, his next production
The whole wide world knows that fashion designer Sabyasachi Mukherjee has made Vidya Balan look beautiful in his elegant creations. In fact, Vidya is Sabyasachi's favourite muse. And just when we were excited to see what the maverick designer was going to come up with to make Vidya look daringly different in her forthcoming film Ghanchakkar.…along came a spoiler!
We hear that Sabya will have to focus on Priyanka Chopra's look in Sanjay Leela Bhansali's film Ram Leela – remember the Ranveer Singh film that Kareena Kapoor dropped out off only last week? – instead of Vidya Balan. In reality, the haute designer was signed up to work on Vidya's look in her next film, a funny called Ghanchakkar. But sadly for Vidya, the film's shooting scheduled has been pulled forward from September to August. And now Sabyasachi's dates are clashing with Sanjay Leela Bhansali's Priyanaka starrer Ram Leela.
Bhansali, who is the best of friends with Mukherjee, wants the designer to focus only on Ram Leela. " Bhansali asked Sabya to be constantly present on the sets of the film. Interestingly, Sabya's contract doesn't mention any such thing. It doesn't contain any clause barring him from working on any other project simultaneously," revealed a source to a tabloid.
The makers of Ghanchakkar have now called upon another Kolkata-bred designer, Subarna Ray Chaudhari to design for Vidya. Sabyasachi was torn between his long time friend Bhansali and his fashion muse,Vidya. But he had to make a choice. Poor Vidya has finally lost Sabya to Priyanka Chopra!