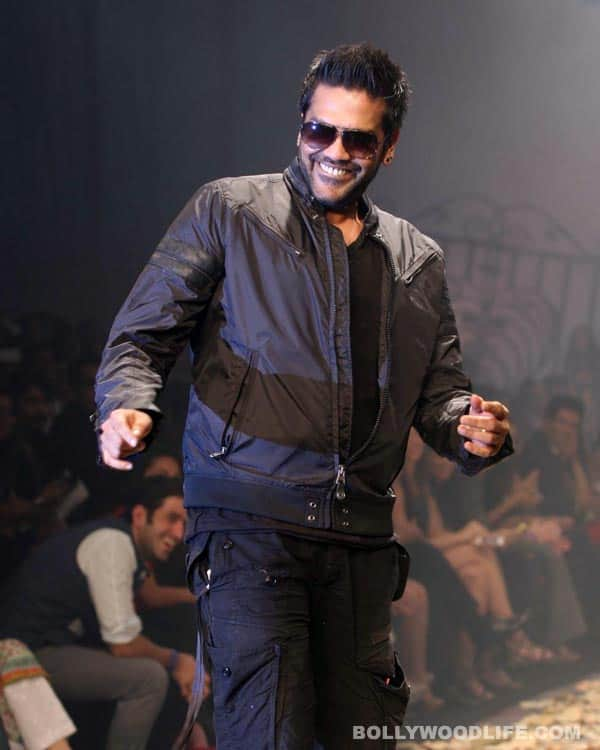 No, the fashion designer hasn't crossed swords with his pretty friend. But there's a strategy for his not using the Bong babe for his movie. B-town's favourite fashion designer clears all the doubts surrounding his maiden production titled Main Anna Nahin Hoon.
While fashion designers Manish Malhotra and Vikram Phadnis are still waiting to get off the ground with their filmmaking aspirations, Rocky S has already dotted the i's and crossed the t's with his maiden production. A tabloid report revealed that the designer has signed on Manish Gupta (the writer of Sarkar and director of The Stoneman Murders) to helm his first production with a seemingly controversial title, Main Anna Nahi Hoon. The film doesn't star any of his famous friends from B-town, but actors like Prashant Narayanan, Rajendra Gupta, Rajesh Shirganpare and Sammer Dharman Adhikari play leading roles.
Anna Hazare is one the most admired Indian public figures today. Why did you choose to start with a controversial-sounding film like Main Anna Nahi Hoon?
When writer-director Manish Gupta narrated the subject to me, his sheer conviction for his story convinced me instantly. While he respects Anna Hazare and his work, he feels that the whole agitation has become a bit of a circus! Manish sold his concept to me by saying boldly: "My film will explore how it's impossible to be honest in India. My film will expose our own hypocrisy as a society with regard to Anna's agitation. While people flock to Anna's agitations in thousands, these very people on their way back home, if caught by an RTO havaldar, have no qualms about bribing him, thus encouraging corruption. For such people, Anna's agitation is nothing but an evening outing. After all, these days it's become fashionable to support Anna and to strut around in a Gandhi topi. If one truly wishes to support Anna, then that person has to first become completely honest and non-corrupt in his own profession. Only then will he/she earn the moral right to point a finger at politicians. We need to look within ourselves and fight corruption first within our own conscience." I was so taken by this man's courage and honesty that I could not say 'no' to him.
Aren't you worried that the film will invite a lot of public ire around release time?
Not at all! The film does not disrespect Anna in any way. He is shown to be an honest and great person in the film. The hypocrisy with which people approach his agitations is the crux of the film.
Considering that you are friends with some of the biggest names in B-town like Bipasha Basu and Shilpa Shetty, why did you cast less well-known actors in your first production?
I wanted my first venture to be a small budget film, so that I could learn the ropes and move up eventually.
Wouldn't your film reach a wider audience if it had a popular star?
With no offense to anyone, in the past few years scores of small budget films with unknown but good actors have performed better. It's basically the content that makes a film work.
MANH comes across as an offbeat subject and will be made with a small budget. Does that mean you don't want to make the larger than life mainstream cinema?
My next venture will be a big budget film with the best names in the industry! Everything is yet under cover, as our team is working on it, and right now saying much about anything does not do it justice. The only thing constant is the director Manish Gupta with whom I've forged a long-working relationship. And I'm sure, together we can create landmark cinema.