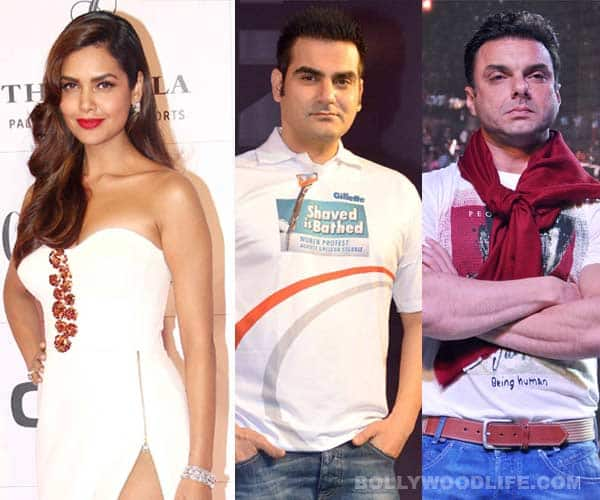 Is it their fault or is it the fault of the Election Commission? Read on to know…
Bollywood goes to poll today and most of the celebs are at Tampa Bay enjoying a happy weekend at IIFA, least bothered about the elections, but there are a few unlucky ones who want to vote but can't even after being in Mumbai. Grapevine has it that celebs like Esha Gupta, Arbaaz Khan, Sohail Khan, Madhur Bhandarkar and others don't have their names on the voter's list. Now being a celebrity also there is not much that people can do if their names are not present in the voter's list.
Esha Gupta travelled all the way to Delhi just to cast her valuable vote and to have a say in the forming of the National government, but to her surprise her name was missing from the electoral rolls. She was shocked and taken aback by the incident. She was visibly angry on the mismanagement of the Election Comission (EC) and vented it out via her twitter account. She tweeted, "Where every vote matters, the Election Commission didn't make my card, and they refused to let my mom cast her vote today. Poor thing had to return with all her ids."
Superstar Salman Khan was very much present on the voters list but he couldn't vote because of some work commitments, but his brothers Arbaaz Khan and Sohail Khan found their names missing from the voter's list. Arbaaz remained pretty cool and refrained from venting out his anger on the EC, but that was not the case with Sohail. Speaking to a leading daily Sohail wished that his name was there on the voter's list. He made a movie like Jai Ho, which spoke pretty vehemently about the right to vote, and we too hope that the Khan brothers could have had voted.
Madhur Bhandarkar has always been vocal about his political views and whom he likes and who he dislikes. He has always been rational and logical with his judgement but he too was met with a rude shock when he couldn't find his name on the voters list. Talking to a leading daily he confirmed, "Yes, my name is not there on the voters' list. I have been voting in the same constituency for many years now, but this time around, I don't know how my name has gone missing from the list. I plan to go to the polling booth and figure this out as I wish to cast my vote." We felt good that he was finally able to vote in the morning at the same electoral booth once they figured out the mistake.
Now we don't blame the EC for such small faults but wethinks that in a nation where every vote matters, it is very important that the EC tries to reduce such mistakes and ensures that there is maximum polling. That way India could have the best possible government, which would have had been selected by the most of Indians. Hai na peeps?