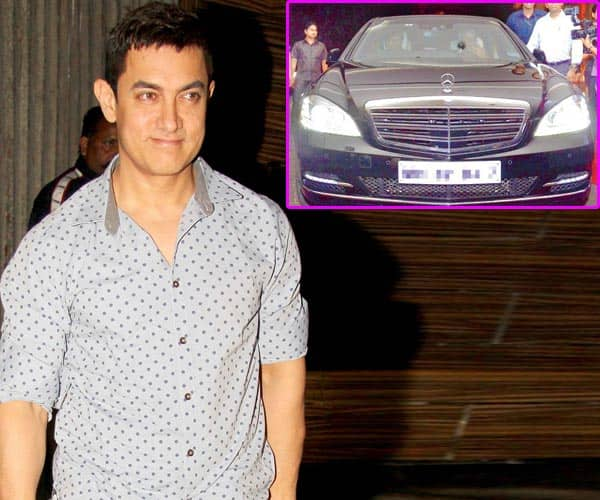 After hearing the latest goss about AK, we wonder if the Dhoom:3 actor is being extra cautious before the second season of Satyamev Jayate is aired on TV
A little birdie tells us that Aamir Khan has paid Rs. 10 Crores for his own safety. Reportedly, the actor has bought a bullet and explosive proof Mercedes Benz S600 worth that amount, which makes him the owner of the most expensive car in B-town. By purchasing this 'special protection' car, Aamir has joined the likes of industrialist Mukesh Ambani and Prime Minister Manmohan Singh, who own the same model of Mercedes. Though the actor has denied receiving any security threats earlier, our birdie tells us that he has bought this car due to a series of security threats.
So why did Aamir buy this bomb-proof car? Well, the Dhoom:3 actor had received threats after the first season of Satyamev Jayate, in which he had openly talked about a lot of sensitive topics. And we hear that the second schedule of Satyamev Jayate which will go on air from March 2nd may deal with topics such as governance, corruption and the Lok Sabha Elections 2014. Of course, he is bound to receive more threats post the airing of such episodes, no? Though Aamir was reluctant to purchase a bomb-proof car, we hear that his family and friends convinced him to order it.
A lot of people own bullet proof cars, but Aamir Khan has been recently spotted in a customised bomb-proof car. We wonder if the showmakers of Satyamev Jayate want their host to take this extra precaution as they fear more threats post the show is aired. Or is this a marketing gimmick? They are bound to instill more curiosity in the audience's mind about this season's subjects by portraying that Aamir is likely to receive more security threats, hai na? Well, let's watch the second season of Satyamev Jayate and then decide if such a measure was actually necessary. What say, BollywoodLifers?