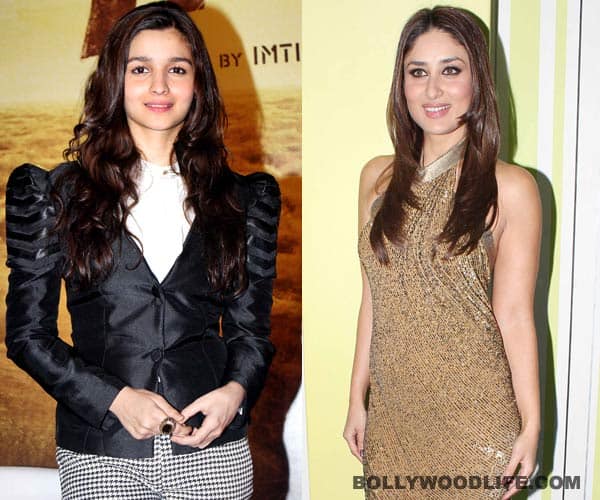 Alia has always maintained that she is a die-hard Kareena Kapoor fan. In fact, the Student Of The Year babe reminded many of Bebo and has always been compared to the Begum. But sadly Ms Bhatt is no longer a part of Kareena's fan club, we wonder why…
Alia Bhatt has never shied away from praising her role model Kareena Kapoor Khan at least till now. The newbie, who is just two films old, has openly spoken about her affection for Saif Ali Khan's wifey every now and then. Not so long ago, in an interview when asked if she loves the Jab We Met actor, Mahesh Bhatt's beti had said, "Yes, everything about her. Not only her films but also her interviews, her pictures, her adas and expressions. Uff! I love her, she's fab. I've learnt so much just by looking at her. But I don't copy her. I have my own style." But when KKK came on Karan Johar's chat show Koffee with Karan, she had hardly anything faltering to say about Alia. And that didn't go down well with the Highway starlet it seems. We say coz now Ms Bhatt looks up to Aishwarya Rai Bachchan and not Saifu's better half. Changing loyalties, eh?
Now we feel sad for Bebo coz not only is she losing out on big banner projects but her fans too. Something she cannot afford considering her filmi career is not really that great anymore, hai na? As for Alia, the 2 States actor never sticks to one thing – be it boyfriends or now role models. We know Ms Bhatt isn't dating anybody from the Bollywood as of now but then she has been linked to Varun Dhawan and Arjun Kapoor. And as they say – there is no smoke without fire so we can't just brush aside all the gossip which comes our way, no?
Frankly speaking we really don't care who Alia Bhatt's new idol is or what Kareena thinks about Ms Bhatt as long as they entertain us onscreen.