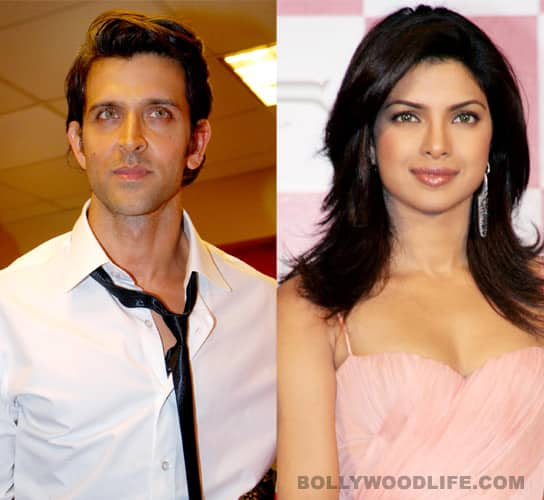 Hrithik deliberately discarded Priyanka's name from the list of invitees for his Agneepath success party to please Shahrukh Khan's wife Gauri
When Hrithik Roshan threw a party to celebrate the success of his blockbuster Agneepath on Saturday night, he was forced to leave out Priyanka Chopra, who was an important member of the cast. Reason: Gauri Khan.
Gauri has been extremely uncomfortable about the gossip regarding hubby Shahrukh Khan's closeness to Piggy Chops. She has been discussing this with her close friends- Sussanne Roshan, Maheep Kapoor, Bhavana Pandey and Mehr Jesia – and they have been supporting her in the decision to leave Priyanka out of their social circle. They didn't even say a 'hello' to her at the bash thrown for Oprah Winfrey. Remember Priyanka left the venue very quickly that night? We hear that she was quite embarrassed by the cold treatment she got from Gauri and gang, and decided to make an early exit.
Gauri has made it clear that though she won't interfere in SRK's professional decisions, she won't tolerate Priyanka coming into her personal space. Things have become quite awkward between the two and partying with Chops is the last thing Gauri wants to do. Considering that Hrithik shares a great rapport with Priyanka and she is also working with him in his home production Krrish 2, it was a tough decision for the actor. Finally, he had to choose Gauri over Priyanka as he and his wife Sussanne consider her family. Poor Hrithik, caught in the middle of a cat fight, ha?