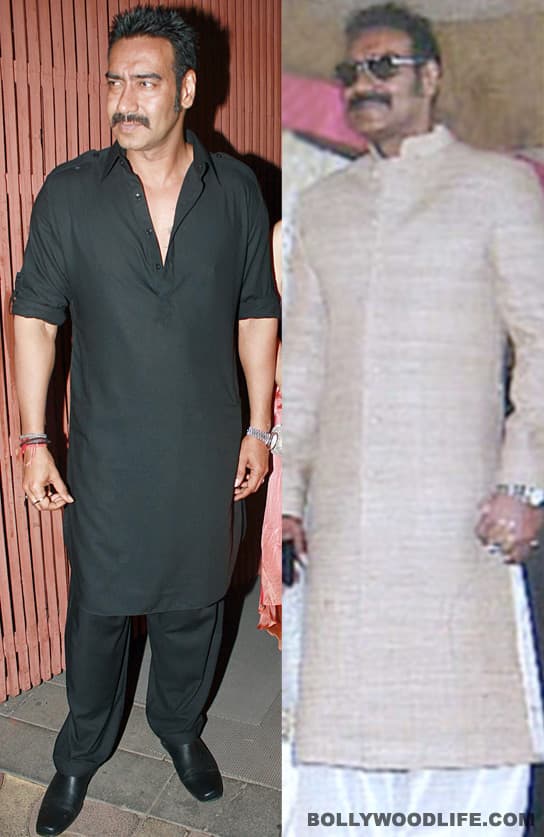 Is the Singham star's new look a personal favourite, or a promotional gimmick? The usually-dapper actor has ditched his suave dressing style for a rough and tough appearance
After a long time we caught a glimpse of Ajay Devgn – who has been away shooting in Jaipur for Rohit Shetty's Bol Bachchan – at two events around the same time. First he was spotted at his dear friend Sanjay Dutt's success bash for Agneepath and next at Riteish Deshmukh and Genelia D'Souza's wedding ceremony. And we think he looks like a different man. While the moustache he grew for the action flick Singham remains, it seems to have grown bigger and bushier, like something a villain from a truly rural masala flick would sport. As for his clothes – the actor, who is mostly seen in jeans and shirts, wore a pathani kurta and salwar to both dos. While the good-looking Ajay doesn't look awful, we don't like him in this goonda look. We were wondering if it was his designer's folly, in which case he needs to find a new one; but then we found that the kurta, salwar and moustache look if for his next, Bol Bachchan. For those who don't know, Rohit Shetty's new film is inspired by Hrishikesh Mukherjee's classical comedy Golmaal, and Ajay's character takes off from the orthodox patriarch played by Utpal Dutt in the original.
We are glad to get a sneak peek of the much-talked-about project, but why is Ajay wearing those same clothes at parties? Our source says that Ajay fell in love with the clothes that he wore for the film and told his designer to get him a similar set of pathani kurtas for his personal wardrobe too. Or perhaps, as our now-confused minds tell us, he was so impressed by his Halla Bol co-star Vidya Balan's penchant for dressing up like the characters in her films around release time, that he decided to adopt that habit too. That way he gets to dress the way he likes, but also promotes Bol Bachchan at a much lower cost and with far little effort. Good idea, Mr Devgn!
Also read: Abhishek Bachchan's Al Pacino look in Bol Bachchan