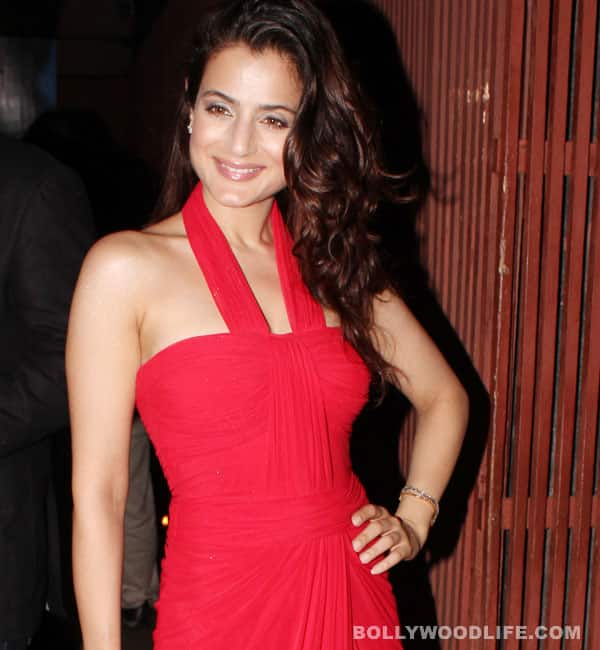 The actor who insists that she is too young for a comeback will be seen playing the role of a desi blonde in Race 2. Why her, we wonder…
Ameesha Patel started her Bollywood career as Sonia Saxena in Kaho Naa…Pyaar Hai opposite Hrithik Roshan. And a walk down the memory lane reminds us how the lady flippantly asks for a burger while being cast away on the Krabi Islands in Thailand. Well, that should have been the first indication to how this gal might sashay down the streets of B-town, and garb the role of a bimbette perfectly, right?
But we didn't have to take the pain to assume.  Ameesha's roles in movies like Aap Mujhe Achche Lagne Lage – the aggressive heaving at the slightest of tragedies, Thoda Pyaar Thoda Magic – pretending to be classically confused over Rani Mukerji's identity and Honeymoon Travels Pvt Ltd – unstoppable yak-yak-yak to bore (us!) and her gay boyfriend proved the point alright. And so it never really came as a surprise that Ms Patel was chosen to play the role of Cherry (can the name get anymore bimbette-like?), the inspector's assistant in Race 2. And Cherry will – in all probability – follow the wobbly footsteps of Mini, a character essayed by Sameera Reddy in Race. Her job here? To make lame observations, wear short, revealing clothes and try to keep the audience entertained by playing THE bimbette.
And wethinks it's going to be cakewalk for Ameesha! 'Coz apart from mastering this genre, we are also told that it will be sort of a blink-and-you-miss role. That means no one will really notice even if the blonde-streaked lady goofs up. Right?
So make way for our darling Ameesha Patel, peeps. And yeah, try not to let logic spoil the show for you while this lady performs on the big screen. Wink, wink!