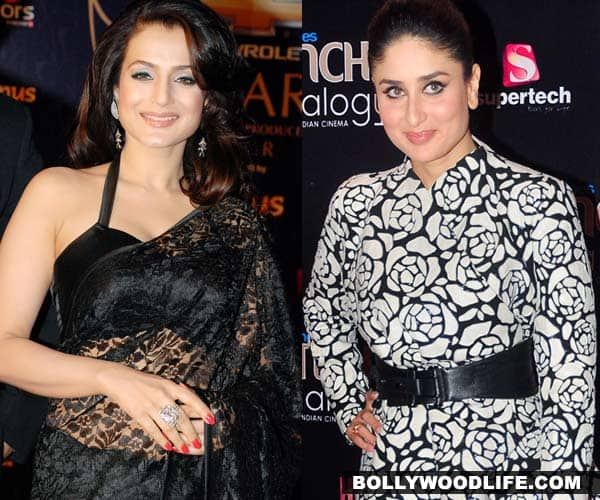 After Priyanka Chopra, the Thoda Pyar Thoda Magic actor is now getting friendly with the official Heroine of B-town. Why, we wonder…
When Ameesha Patel bagged her debut role in Kaho Na Pyaar Hai opposite Hrithik Roshan, Kareena Kapoor wasn't very happy about it. Why? 'Coz initially Bebo was supposed to be chosen for it. And when the movie released, KK didn't blink an eyelid before making some really nasty comments about AP's role.
Just to brush you up on that episode, here's what our Heroine actor said then: "Hrithik's dad spent five hours on every frame and close-up of his son, whereas not even five seconds were spent on Ameesha. There are portions in the film where she has pimples and undereye bags." Oops! And it didn't end right there. KK went on to say that she's glad she didn't do the film. Ahem ahem.
But that was a long while ago. And Ameesha is of the opinion that one should always move on and not hang on to the negativities. How wise, we say. So wiping those sour moments clean from her memory, Patel good-naturedly praised Bebo's performance in her recently released Heroine by saying that Kareena had actually put her heart and soul into the role. Sweet, no?
Even so we wonder – why so benevolent, Ameesha? Guess that's because after a long time the Lazy lamhe lady has two films – Race 2 and Shortcut Romeo – set to release within a span of three months. Also, the lady's home production Desi Magic with beau/'good friend' Kuunal Goomer will go on the floors by November 13. So the platterful of work could well be the reason behind Ameesha's good mood, no? Perhaps.
But while Ameesha has decided to act sweet towards her once arch-rival Kareena, we wonder how Bebo feels about it all. Is she ready to extend an olive branch to Patel too?