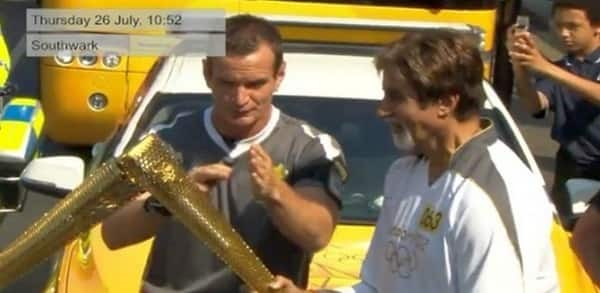 The Bollywood megastar was specially invited to run in the torch relay in London, but we wonder if he's the right choice
Amitabh Bachchan feels "honoured" to be invited to be a torch-bearer in the final leg of the torch relay at the London Olympics 2012.Frankly, we are not sure we feel the same way. After all, we are still busy trying to figure out why he was chosen over anyone more suitable.
Amitabh is an excellent actor and has achieved heights of Bollywood success. But he has nothing to do with sports. The Olympics is the pinnacle of sporting achievements. Hence we ask, why him? The others who were slated to carry the torch alongside Amitabh include former British rugby players Lawrence Dallaglio and Lewis Moody, and Iraq war veteran Phil Packer, who completed the London Marathon after being told he would never walk again. We admire Amitabh's resilient spirit, but somehow don't think it makes for a good enough fit with the Olympics. Especially since we have so many sportspersons who are better qualified. Take Milkha Singh, for instance. Or PT Usha. They are athletes who have made India proud at various games.
In fact, there are other Bollywood stars who have done much more for sports than Amitabh has. Rahul Bose works hard to promote rugby, John Abraham plays football, Akshay Kumar has helped increase the popularity of martial arts, Sunil Shetty has promoted hockey….heck, even Shahrukh Khan has invested in a cricket team and will soon join hands with a football team and used to be a keen player of various sports when he was younger. Amitabh has a long list of achievements, but none of those that are connected to any kind of sport.
Then there is his precarious state of health. London is quite balmy at this time of the year and it's not an easy task to run with a heavy torch on the city's streets. We don't want him falling ill! It's time he passed on the torch – of doing so much, we mean – to someone else, don't you think?