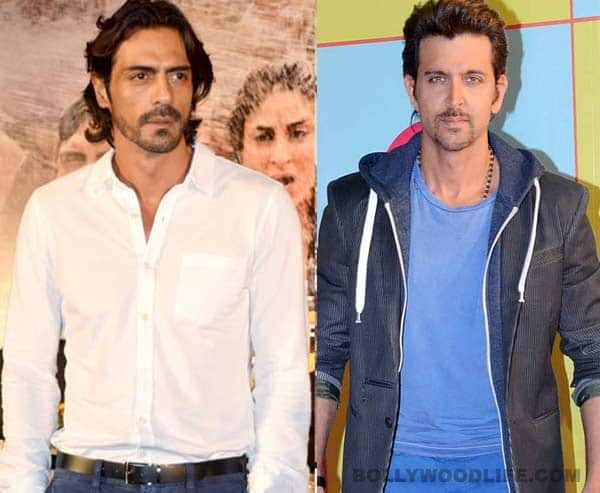 Nothing is private in a celebrity's life, and Bollywood actors definitely know that. But the Ra.One actor was especially annoyed when he won a race and it made headlines…for the wrong reasons!
A few days ago Arjun Rampal beat Hrithik Roshan in a race at their children's school – interestingly, the onscreen superhero Krissh was defeated by one of 70mm's most scary villains, Ra.One! That made headlines. But Rampal isn't amused by the story written on this. Why? Well, it has a little history attached.It all started when Arjun was blamed in part for the Hrithik Roshan – Sussanne marriage break-up. Once known for being part of a powerful Bollywood clique, Arjun and Hrithik became cool towards each other after reports suggested that Rampal was the reason that Roshan Jr's wife Sussanne had decided to separate from her husband. What followed was a series of explanations by both sides involved. While Sussanne and Arjun's wife Mehr Jessia Rampal continue to be good friends and are often spotted enjoying animated conversations over dinner, the same cannot be said about their husbands.
But the two men seemed to be cordial towards each other when they met and raced together at an event at the school their children go to. And then came the problem. A daily newspaper talked about the Rajneeti actor being a recreational drug user and wondered how he could compete – even in a casual way – when he is often under the influence. And the story has blown the friendly on-field rivalry between the two actors into something far more personal and negative. That has spurred Arjun to protest formally. According to his spokesperson, "Arjun has always been an athlete, and health has been of prime importance to him. Everyone in the industry can vouch for that. He has worked hard to achieve all that he has. Hrithik is not a runner, but he still ran, just to watch his sons beam with pride. It is high time Arjun spoke up. The media has been having a field day for a long time now, publishing news without verifying facts or giving details."
Responsible reporting aside, perhaps Arjun is being a little too sensitive about the whole matter, wethinks. After all, last year Leander Paes beat Arjun, while this year Arjun beat Hrithik, Leander and other fathers. So you tell us, BollywoodLifers – what do you think of this whole jhamela?