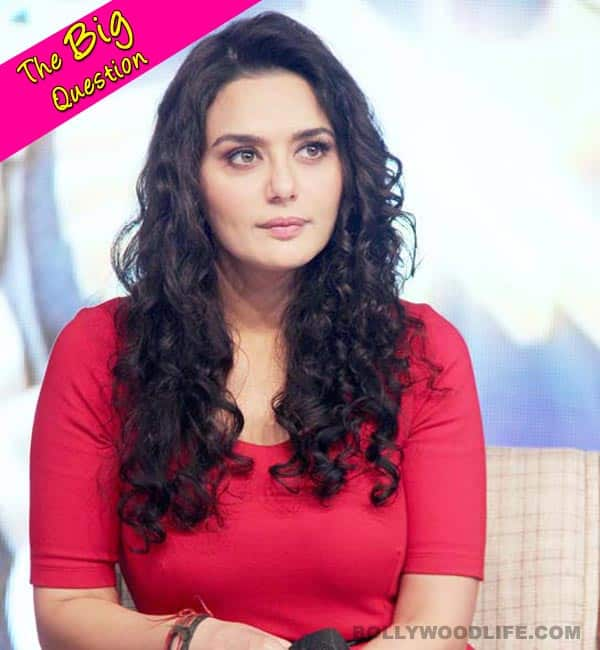 None of her 'industry friends' have publicly spoken in her support. We take a look at why Aamir, Shah Rukh and Salman are avoiding talking about this issue…
The Preity Zinta- Ness Wadia controversy is getting major attention in the media. While late night shows and TV channels are debating and discussing which side is right, there is an eerie silence in Bollywood corridors about the matter. None of Preity's co-stars including Aamir Khan, Salman Khan, Saif Ali Khan or Shah Rukh Khan have given any statement about the matter. Given the fact that the incident had shades of scandal with the molestation charge cropping up early on, none of her contemporaries like Rani Mukerji, Aishwarya Rai Bachchan or Kajol have given any reaction…
BollywoodLife gives you an insight into the minds of Preity's closest friends and demystifies their strange silence…
Salman Khan
Worked with her: Chori Chori Chupke Chupke, Jaan-E-Mann, Ishqk in Paris (special appearance)
Present status: Best friends
His take: At the trailer launch of Kick, Salman chose to interrupt the reporter who asked him the question and labelled the query as inappropriate. He looked angry and irritated on this subject coming up and was clear that he was in no mood to discuss it.
Shah Rukh Khan
Worked with her: Dil Se, Kal Ho Naa Ho, Veer Zara
Present status: Friendly
His take: Shah Rukh too was asked the question at a public event. SRK said, "It's a personal issue. It's an issue she has brought up and I assume it will be dealt legally. As a friend of hers, I will just talk to her." However, unlike Salman he didn't seem annoyed or irritated by the query.
Aamir Khan
Worked with her: Dil Chahta Hai
Present status: Social acquaintances
His take: Aamir who takes to Twitter only to promote his films or TV shows has maintained silence on this issue. Insiders claim that he's presently busy celebrating the entry of a new member in his family with Imran becoming a daddy. There is very little possibility of him coming out for his Dil Chahta Hai co-star.
Abhishek Bachchan
Worked with her: Jhoom Barabar Jhoom
Present status: Friendly, was once linked to her, appeared on Koffee with Karan
His take: Abhishek who is super active on Twitter has chosen to evade any tweets or react to anything that is close to this topic. Like his dad Amitabh Bachchan, who refused to comment when asked, he too is letting his silence do the talking.
Among the B-town divas, Preity always maintained distance from her contemporaries be it Rani Mukerji or Aishwarya Rai Bachchan. In fact on earlier seasons of Koffee with Karan, Rani and Kareena both seemed to be taking veiled potshots at the actor much to the host Karan Johar's delight. When Vidya Balan was asked to comment on this issue at a recent media interaction, The Dirty Picture actor said,   "I don't know the exact context of the case, so what can I say? Preity has always stood up for her rights, and that is great. If she felt it was the right thing to do, then it is the right thing. But full marks to Preity for having the courage. Why should anyone keep quiet if they want to speak up about it, or if they want to go to the police?"
With each day giving a new twist to this tale, we wonder if Bollywood will only be a spectator or voice its opinion on this scandalous controversy ?