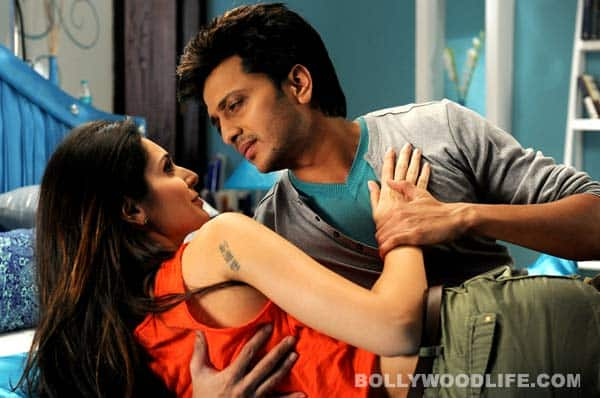 The half-Brazilian-half-Arabic actor was jittery about shooting intimate scenes for her upcoming film but she eventually nailed it 'coz of her co-actor Riteish
In Indra Kumar's upcoming adult comedy Grand Masti, Bruna Abdullah plays a temptress and as one would expect, the actor has quite a few bedroom scenes with co-star Reteish Deshmukh in the flick. While shooting steamy scenes should have been a walk for Bruna considering her bold image, but we hear the babe was a nervous wreck about getting intimate with Riteish.
Our khabroo tells us "Bruna was very nervous; she didn't know how well this scene would go. And since it was her first day on the set, she hadn't interacted with anyone, and upon hearing that her first scene was an intimate one, it made her sweat even more." But the nervous air soon vanished after Mr. Deshmukh walked in. The Masti actor, who is known for his easy going attitude, made Bruna comfortable and pacified her nerves. And the two actors shot their scenes quite smoothly.
Going the by the first trailer of the film, wethinks Riteish did a great job as Bruna looks super confident in all her oh-so-hot scenes!