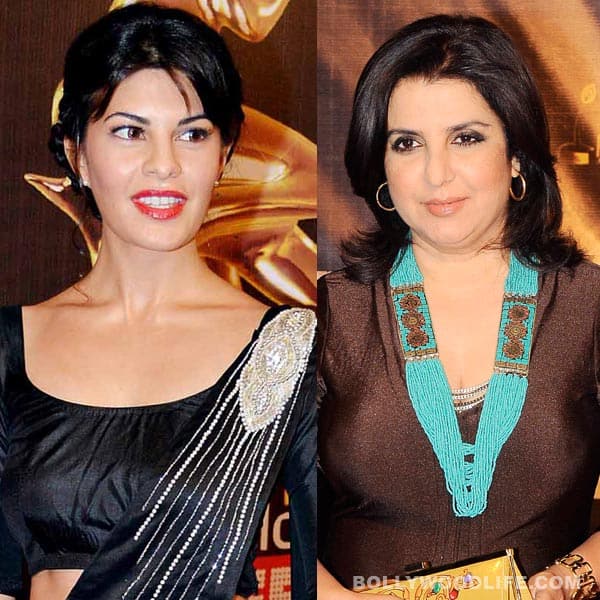 Is it because of brother Sajid Khan's 'friendship' with the Sri Lankan beauty, we just had to wonder…
The media has been buzzing with that one sentence: "I'm very fond of Jacqueline. She's a lovely girl. I'm just helping her out with whatever little I can." If a man, especially a star from Bollywood had said it, eyebrows would be raised and whispers would start floating around about an alleged affair between said man and Jacqueline Fernandez, about whom the words were said. But this time it is a woman doing the saying, apni ace choreographer-directorji Farah Khan. And then sent our wicked thoughts in another – albeit obvious – direction, as you would guess it would.
After all, the air around a certain set of people who are associated with super-successful films that are slapstick funny and raking the moolah in has been blue with stories of a love-tie between a director and a pretty actor with long legs and a willingness to show them off. Meet 'good friends' Sajid Khan, responsible for the Housefull series, and Jacqueline Fernandez, most recently seen in Race 2. Yes, they are; no they are not…they deny it hotly, but the world insists that they are in a very close relationship indeed. We wait to know more from the mouths of the…err…horses involved, but until then we salute Sajid's big sis' Farah, who has nurtured the lady involved. As Jacqui said in an interview recently, "Farah is a close friend and I take what she says seriously."
Yes, she may be talking about hair and make-up, costumes or whatever, but we like peering deeper into everything we peer into. And sisterly approval is what we like seeing!