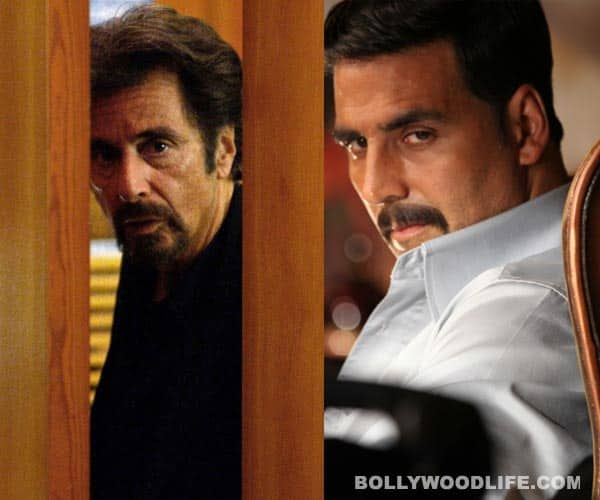 Apparently, Akki's menacing act in the promo of his upcoming gangster flick – Once Upon A Time In Mumbaai Dobara has impressed the Godfather star. The Khiladi hopes that the Hollywood acting legend enjoys his film too
Milan Luthria's Once Upon A Time In Mumbaai Dobara is two weeks away from its release (August 15), and accordingly the curiosity surrounding the film, courtesy dhamakedaar promos, have increased manifolds. The male protagonist – Akshay Kumar, whose role is said to be modeled on the dreaded gangster Dawood just couldn't stop smiling! Obviously, apna Khiladi has a good reason. We hear Akki has found an admirer in the Hollywood star Al Pacino who was blown away by his film's theatrical trailer.
It's learnt that the romantic drama, produced by Ekta Kapoor, has caught the attention of the original Godfather star who praised the Special 26 star and his towering presence in the film. We hear that during an informal discussion between Pacino and his business associate, Barry Navidi, the latter mentioned about Once Upon A Time… being touted as Bollywood's answer to edge-of-the-seat bad boy entertainers. Pacino, impressed with the trailer, saw himself reminiscing about his Godfather days.
"A touch of appreciation is always held dearly in an actor's arms, even if it's from the simplest of people like our beloved spot boys," said Akshay excitedly and adds, "But to have your work spoken of so kindly by the world's most admired gangster Al Pacino himself – I had goose-bumps thinking about him watching the promo! I was so humbled, not only as an actor but as a fan of his legendary work. I pray he enjoys the final piece as much as he enjoyed the promo!"
We hope Al Pacino sticks to his words if at all he manages to watch Akki's entire film. After all, they say don't judge a book by it's cover!