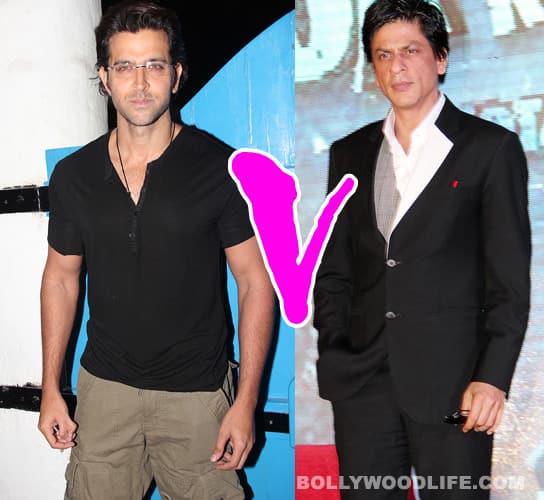 After Arjun Rampal, now the Agneepath hunk Hrithik Roshan has started keeping a safe distance from the Don 2 superstar. What could have possibly gone wrong?
Is it Shahrukh Khan's quirky humour or is it his not-so-warm-bordering-on-arrogance off-screen persona that irks people? All we know is that Baadshah Khan has many frenemies in the industry. And the conversion rate of friends turning into foes is quite high for the Don 2 star. Shahrukh's rivalry with Salman Khan and Aamir Khan is a well-known affair. His equation with Amitabh Bachchan is not so warm either. Choreographer Farah Khan who used to be SRK's best buddy turned cold towards the superstar a couple of years ago. Shahrukh's relations with his buddy Arjun Rampal too soured after a rumoured altercation at Mannat. And now Hrithik Roshan is the latest to jump on to SRK's frenemy bandwagon.
We hear that Hrithik attended the launch of ace photographer Dabboo Ratnani's calendar but left the minute Shahrukh Khan made his glittery entry. Not just Hrithik but Arjun who was also present at the event simply saw through SRK and walked off without even greeting him. Arjun we can understand, but why Hrithik suddenly turned cool towards Shahrukh came as a surprise.
We also heard that the two avoided each other when they were bringing in the New Year in Dubai. Whatever happened to the joint vacations they used to go on till a couple of years ago? Everything was hunky-dory between the two even a couple of months back when they complimented each other on Just Dance. We think it's got something to do with Hrithik's patch up with Salman. Hrithik and Salman had been good friends till their nasty fight over Guzaarish. For the last few months, Hrithik has been making a concerted effort to patch up with Salman and we hear now all is well between the two hunks. Wethinks that is what changed the equation between Shahrukh and Hrithik. And here we were, hoping Hrithik with his Krrish experience would help Shahrukh make a sequel to RA.One that is better than the first. Too bad. Hopefully, the two will mend fences soon. Fingers crossed.