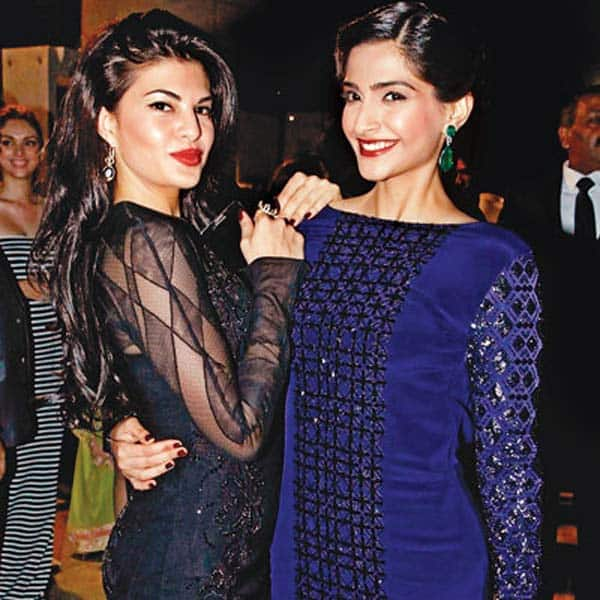 Sonam Kapoor and Jacqueline Fernandez have been friends for three years, disproving the belief that two contemporary actors cannot be friends
It's rare for two Bollywood actors to be friends. Which is what makes the friendship of Sonam Kapoor and Jacqueline Fernandez so special. Most actors become friends during the making of their film together (Rani Mukerji-Vidya Balan in No One killed Jessica and Kangana Ranaut-Priyanka Chopra during Fashion) but once the film is over, so is the friendship. Interestingly, Sonam and Jackie have not worked together in a film. And their Dostana has lasted for over three years now.
Jab they met.
Says an insider, "Sonam and Jackie met during the Mausam premiere in 2011 but they became friends when Jackie was shooting with Sonam's father Anil Kapoor in Race 2 (2013). They like to hang out when they are not shooting, meet for dinners and even party together. Jackie was the only actor at Sonam's birthday party earlier this month. They share fashion and fitness with each other.
Helping a friend
Sonam has introduced the actor to her best friend and designer Shahla Khan's outfits. and the Sri Lankan actor has been sporting her designs. Recently when the Kick trailer released, the KaPoor sisters were the first to tweet and compliment Jackie on it. Sonam's younger sis Rhea Kapoor tweeted: "Hot trailer! Hotter chick!" Recently Jacqueline had a wardrobe malfunction on the red carpet. The clasp behind her Emilio Pucci outfit gave way, and Sonam covered her from the Paps and fixed it.
Family scene
Farah Khan is very close to Anil and his wife Sunita Kapoor. When Jackie was dating the director's brother Sajid Khan, the Kapoor clan welcomed her into their family. Last year at the Kapoors' Diwali bash last year, Jacqueline was part of the small knit group.
Highlight
Sonam: "Jackie's got a clean heart. She has no agenda whatsoever. We have the same sense of fun and values. She's part of my family now. Shehla Khan, Jackie and I are really close. I love Jacqueline a lot."
Jacqueline: "Sonam is one of the most genuine honest people I know and that's why I always wish the best for her! She's inspired me a lot with her impeccable fashion sense and dedication to her work."
Salman in Common!
While Jackie will be seen with Salman Khan in her next release Kick, Sonam stars with him in Sooraj Barjatya's next.