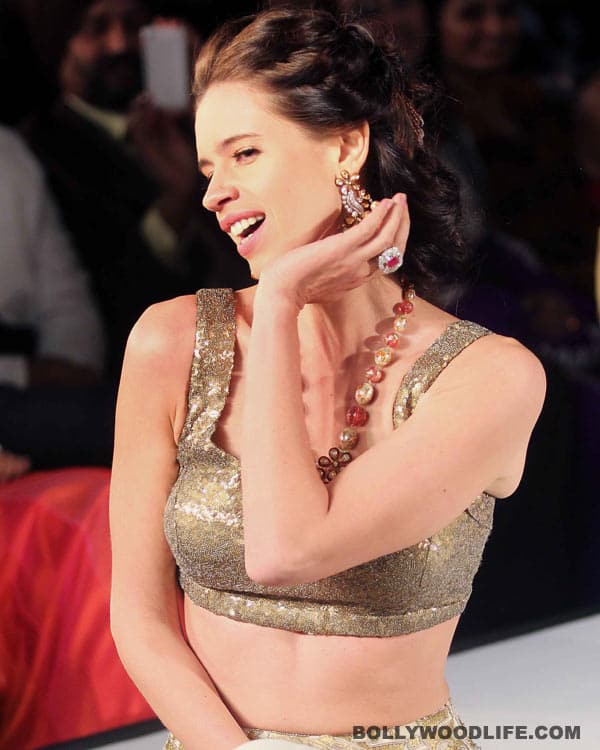 Kalki who looks like a calm and cool chick lost her cool at a fashion show! Read on to know why
Rumors about Kalki Koechlin's failing marriage with Anurag Kashyap have created quite a buzz. Recently, at Glamour Style Week 2013, Kalki was supposed to walk the ramp. It was reported that designers Riddhi and Siddhi taunted her and called her a 'mentally disturbed' woman!
Apparently, the designers were 'disgusted' with Kalki's antics and they pinned the blame on her marriage which has gone kaput due to Anurag's fondness for Huma Qureshi. As Kalki didn't get to give her side of the story, she took to the social networking sites to vent out her frustration at the designer duo.
Kalki tweeted, "After a 4hour wait in lehenga, jewellery make up they have the gall to call me mentally disturbed! Riddhi Siddhi, dp designers shame on you! Not seen a more disorganised show than #glamourstyleweek2013 where the organisers called me off the ramp when I'm the showstopper! No wonder actors turn into divas."
The Dev D actor didn't stop till she was calm. In another tweet she said, "That's the only language some people understand. By the way I am mentally disturbed but its certainly not because of my hubby;)."
Though the Ek Thi Daayan actor took to Twitter, she refused to speak about the matter. She said, "Please speak to my manager as I am working right now. I don't want to get distracted with this." Hmmm… Calm down, pretty lady!