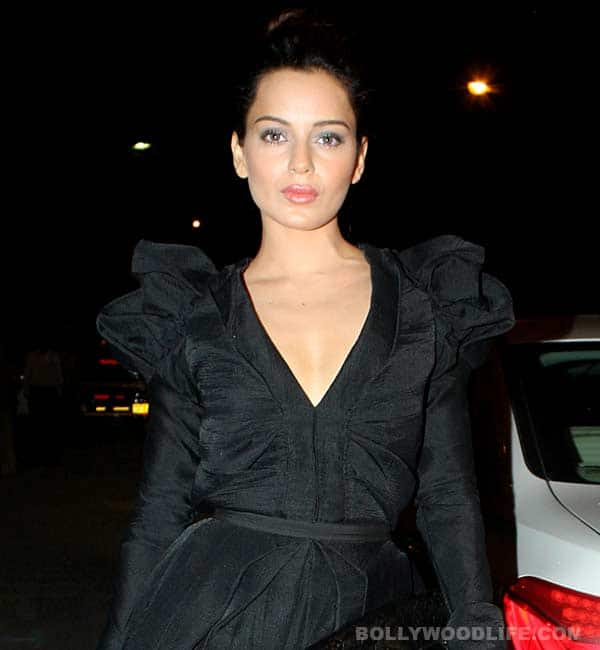 The Gangster babe has something else on her mind besides acting. Read on to find out…
Currently, Kangana Ranaut is riding high on the success of her last release Queen which not only impressed the critics and audience but also charmed many Bollywood bigwigs. At the same time, this B-town beauty is also gearing up for next release Revolver Rani whose trailer has garnered positive response from the masses. With things going great professionally, one would expect Kangy to signs more films, hai na? But this starlet is instead going to take a break. Ms Ranaut will fly to New York in June to resume her course in script writing. While talking a leading daily, the Queen actor said, "I will continue my course in screenplay writing before I start shooting for the sequel of Tanu Weds Manu."
There is one more reason why Kangana is looking forward to her trip to NY. "I like it there because I get to live like a girl next door. Over here, the baggage of stardom is too much to carry at times" added the talented actor. While this pahadi kudi loves her career, she wants to live a normal life.
Kangy further said, "I can't be living like this all my life — wake up, be in front of the mirror for hours, wear makeup and gowns, and go for shoots and parties… I want to live like a normal person; it's my birth right. I want to wear track pants, go grocery shopping, cook. The best part is, people there don't recognise Bollywood celebrities. In New York, I can just switch off and be a completely different person. I can have conversations with people on the street, in the subway, and just enjoy my life."
We understand Kangana's situation coz we know it's not easy being a celebrity especially in a nation where actors are worshiped, hai na? Well, we are glad that the curly haired babe will zoom off to New York and stay away from limelight if not forever but at least for few months.